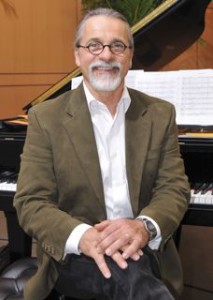 Improvising Is For Everyone, by Bradley Sowash
Last weekend, I attended the 2013 conference of the Ohio Music Teachers Association.  This year, it was held in Cincinnati at the University of Cincinnati College-Conservatory of Music.  I carpooled with three other teachers from my area.  We had a lot of fun!
The first session was held by Bradley Sowash, a jazz musician and piano teacher located in Columbus, OH.
For a number of years now, Mr. Sowash has been encouraging teachers to include creative skills (improvisation and composition) in their lessons.  For many years, teachers would respond to Mr. Sowash's message saying they were certainly not interested in doing so.  However, things are changing: in recent years, teachers have begun agreeing with the premise that teaching off the page is just as important as teaching on the page.  Now, teachers are asking for information about HOW to do so.  Today's presentation addresses this question about HOW to teach the skills for improvisation.
To begin, Mr. Sowash discussed 5 myths about improvising/playing by ear.  Many people believe that you must be born with a good ear in order to improvise or play by ear, but it simply isn't true: it comes through practice and study just like traditional musical skills.
Next, Mr. Sowash described the process of teaching scales and chords to students in preparation for being able to improvise using them.  He called this section, "Scaling the Chords."  The goal here is to teach scales more creatively, teach chord fluency, and understand pop/jazz chord symbols properly.  Continue reading "2013 OhioMTA Conference (1) – Improvising Is For Everyone, by Bradley Sowash" →