My "piano party" group lesson this month was a lot of fun.  We began with the Rhythm Name game — always a favorite.  🙂  The Rhythm Name game is described in this post.
Next, I played a variety of short classical pieces and asked students to aurally identify the piece as AB form or ABA.  This was also a good way to expose my students to repertoire by various composers.
This led us right into a listening activity of Leroy Anderson's The Syncopated Clock, using Jennifer Fink's wonderful worksheets.
We listened to the piece a few times, filling in the information on the first worksheet about the three clocks in the piece.  Then, I passed out the worksheet showing the living room wall, and we listened again for the form of the piece and glued the clocks on the paper in the right order.  My students loved the music and enjoyed figuring out the order of the clocks!
After our listening activity, we played a couple of games: the Swat-A-Rhythm game and the Ice Cream Intervals game, as described in previous posts earlier this week.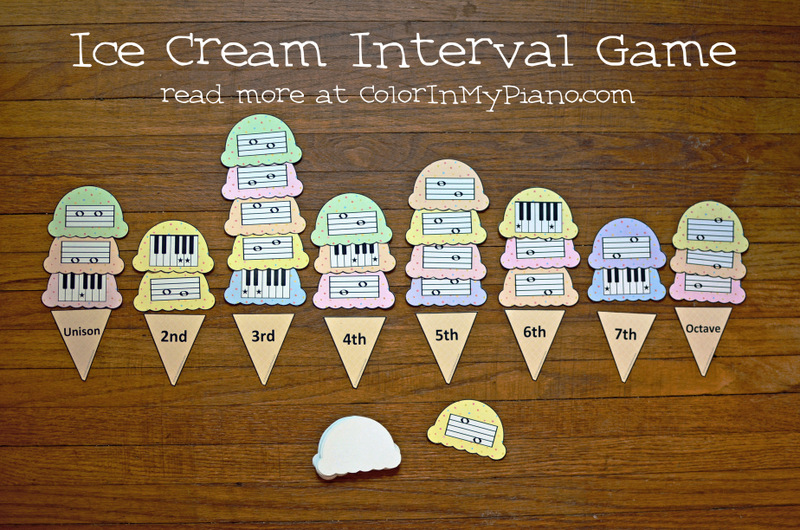 This was our last Piano Party of the year.  Over the summer, my students will have the opportunity to interact at the summer camps, and we will start up our monthly Piano Parties again in the Fall.
Planning monthly group classes does require extra time and planning, but I think it is so worth it!  It is valuable for students to make "piano friends," and I love having the opportunity to reinforce old concepts, or focus on new concepts that don't always receive the attention they deserve during weekly lessons.  I will definitely be continuing group classes again next year!