This page contains FREE piano/theory worksheets, sheet music, lesson plans, and other resources for music teachers and students! Please observe the Terms of Use:
Please do not alter my items in any way.
Please do not redistribute them on other websites or by email.
Please do not remove my copyright.
Please DO use them (as is) for personal and educational uses. Enjoy!
Use the Printables navigation menu at the top to browse through the various file categories.
total
Displaying 81 to 107 of 107 total files.

Record of Payments Due & Received
» 28.8 KiB - 3,062 hits - 16 August 2011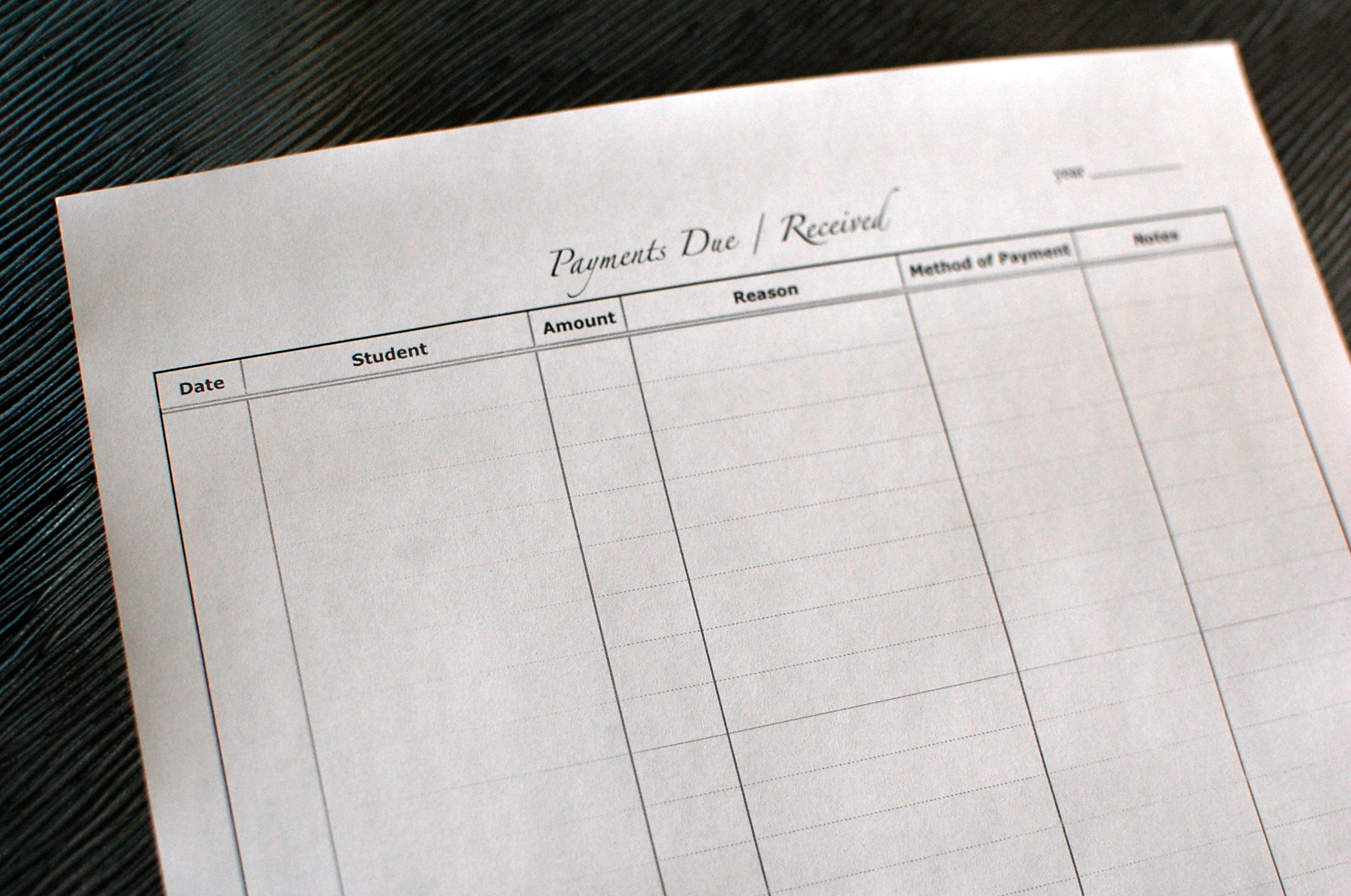 I use this to record checks and cash when I receive them from students/parents.
You can also use it to mark down books/sheet music that you purchase for students, so you can keep track of what has and hasn't been paid for yet. Check out
this post
to read more.

Record of Student Achievements
» 37.2 KiB - 2,133 hits - 16 August 2011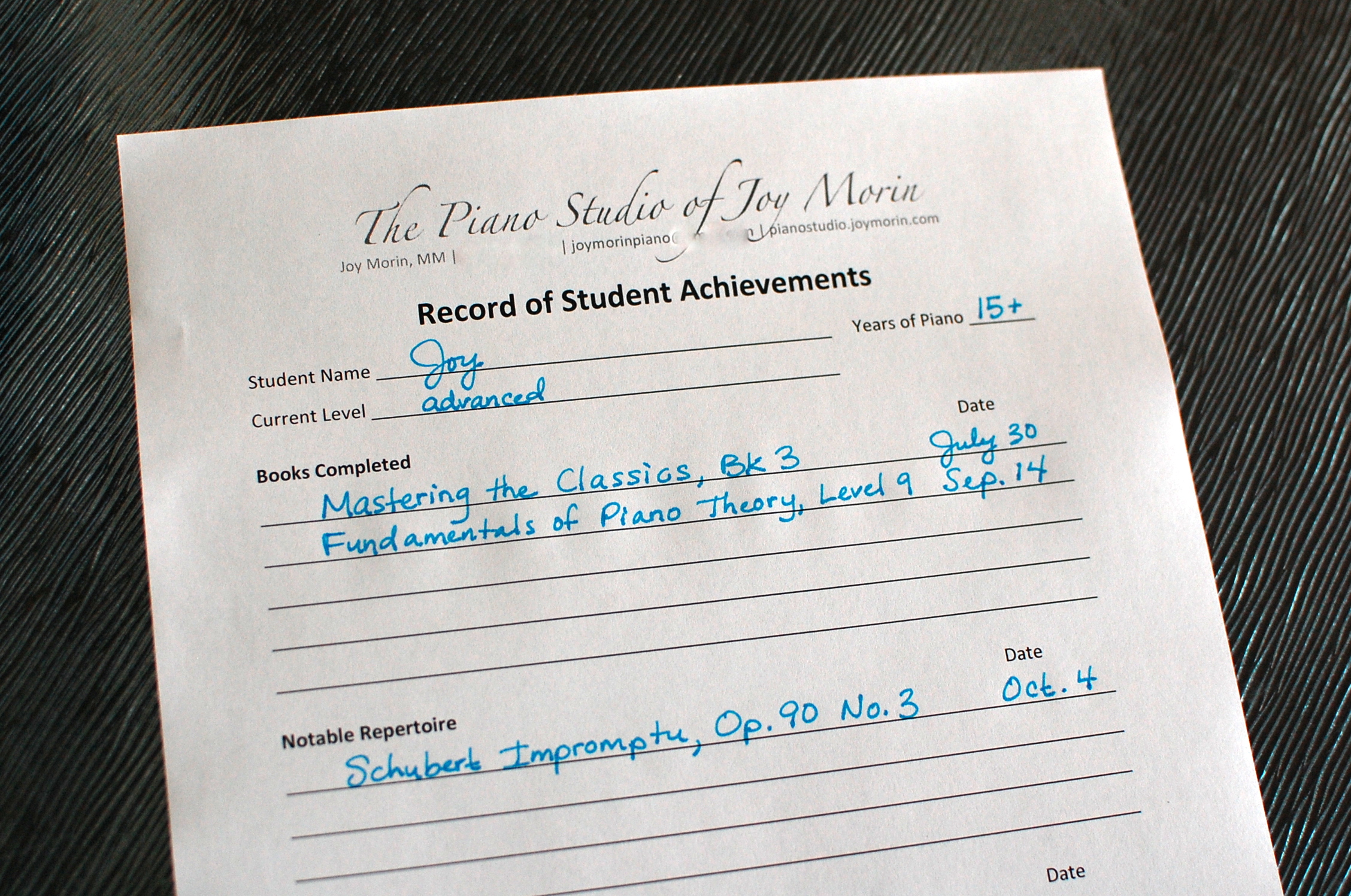 This printable is designed for the teacher to keep records of each students' achievements, including the completion of music books, the completion of notable pieces of repertoire, the performance of a piece for an audience, and other achievements. Keeping such a record is helpful for the teacher to track and evaluate student progress and participation from year to year. Suggested use: print a page for each student and keep the pages in alphabetical order in a 3-ring binder.
Check out
this post
to read more.

Rhythm Magnet Game
» 155.2 KiB - 3,228 hits - 25 February 2011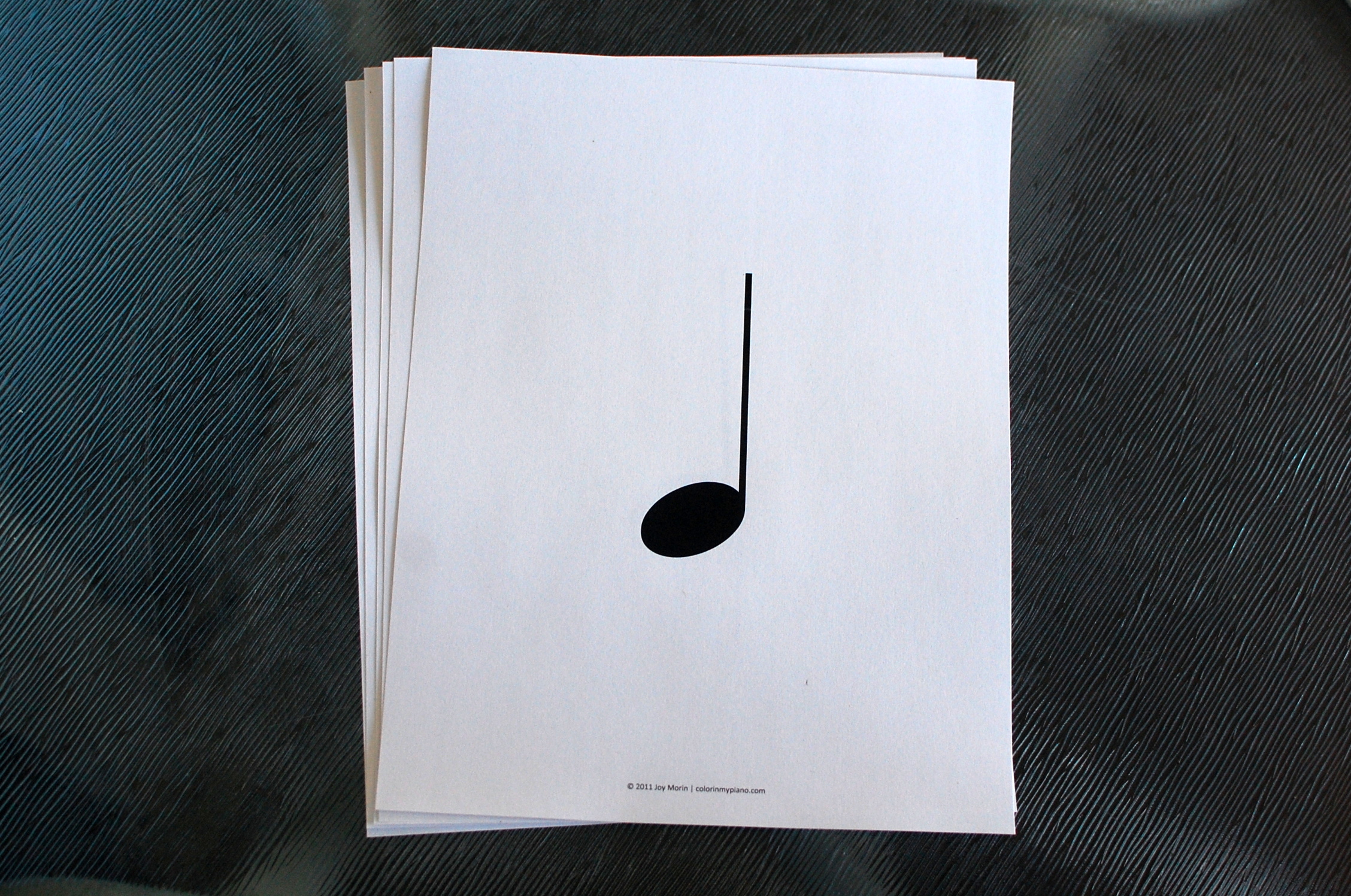 This pdf contains full-page sized posters of rhythm values. They are perfect to use for games or just to hang up in your music studio. Click here to read more about the Rhythm Magnet game. It involves having students gravitate towards the posters which have been spread around the room as they hear the teacher improvise in various rhythmic values. The Rhythm Magnet game covers ear training, movement, and rhythm, all wrapped up in one game!

Rhythm Train game
» 186.2 KiB - 158 hits - 16 May 2013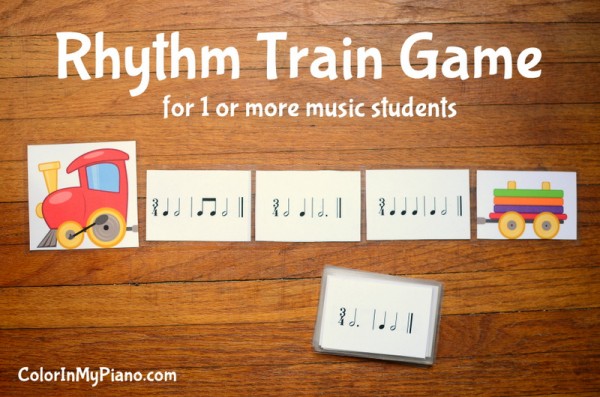 Playing the Rhythm Train game makes clapping rhythms just a little bit more fun. :) It works well both in the private lesson (it can be played at the piano on the music rack, or off-the-bench on the floor) or in group classes. You will need a set of rhythm cards (there are some available in the ColorInMyPiano.com/shop/) and you will need the train cards provided in this printable. Ask the student(s) to randomly choose 2 or 3 rhythm cards with the same time signature. First, make sure that the student(s) are able to accurately clap each rhythm card separately. As they master each card, they may add it to the train behind the engine, with the caboose at the end. When all the cards have been added to the train, ask the student(s) to clap the entire rhythm. Challenge the student to see how many rhythm trains they can make, or assign the student to make a rhythm train every day at home. Read this post to learn more.

Rhythm Value Cards
» 1.9 MiB - 3,026 hits - 17 April 2012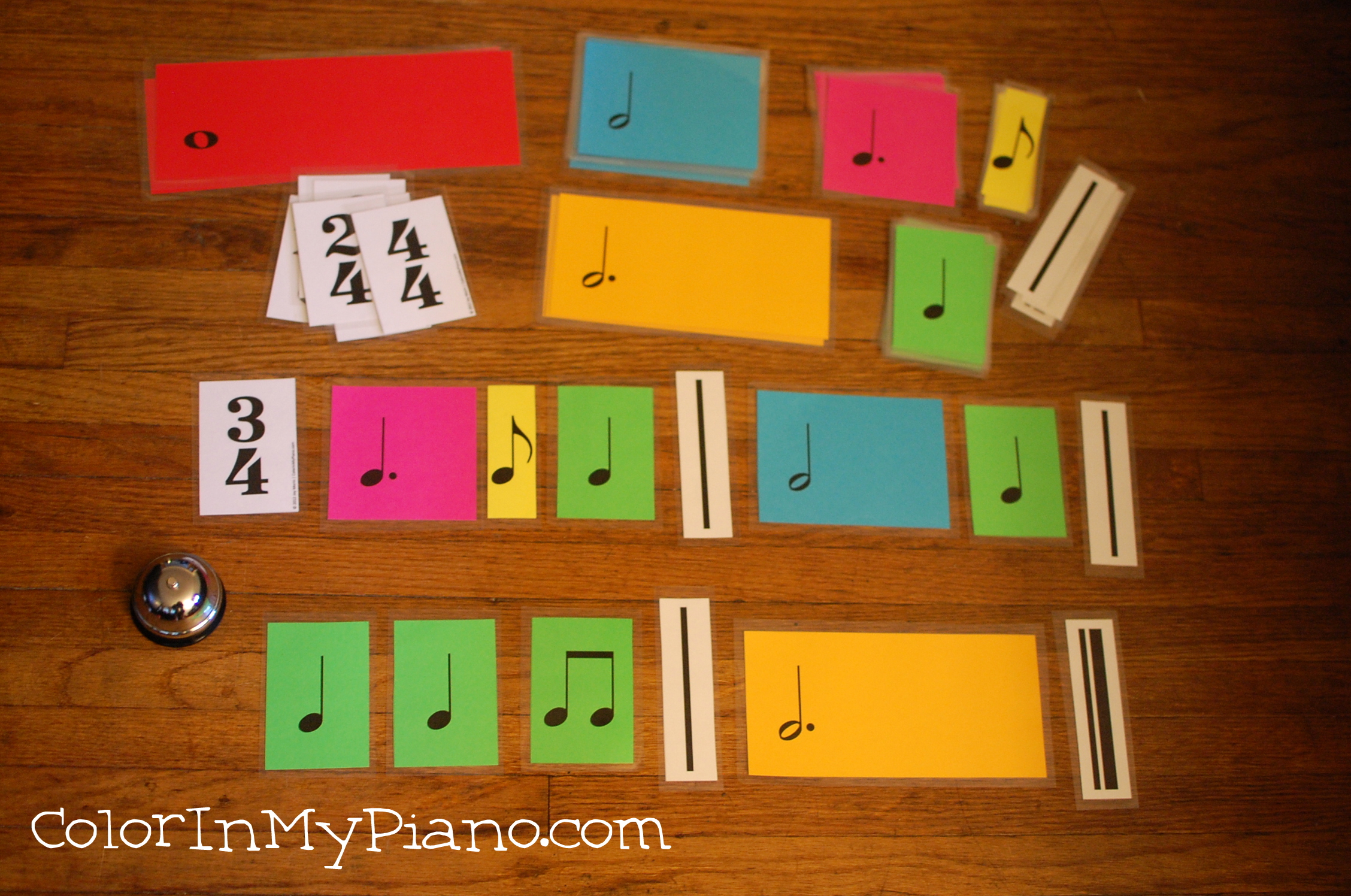 The pdf contains rhythm cards for basic values as well as many advanced rhythms, including sixteenth notes, dotted-eighth sixteenths, eighth note with two sixteenths, etc. There's even eighth note triplets and quarter note triplets. I recommend printing only what you need, or at least giving students only the cards they'll need for the activity you have planned. I also recommend printing the cards on different colors of cardstock paper according to the number of beats they are worth. Read the original blog post about these cards here.

Rollin' Rhythms worksheet activity
» 523.7 KiB - 3,161 hits - 20 March 2012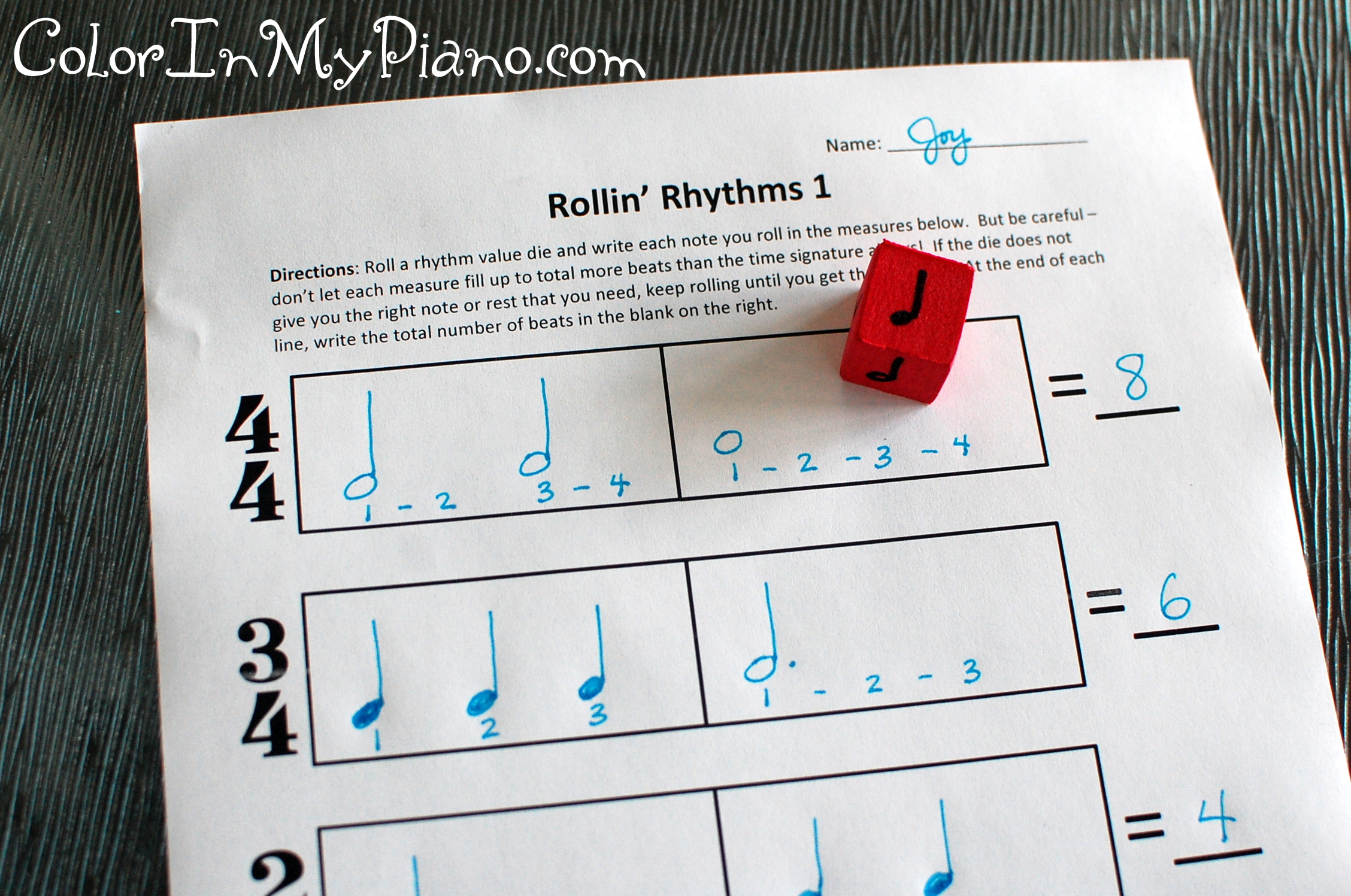 I was inspired to create this set of worksheets after I saw a math worksheet on Pinterest that involved rolling the dice, recording what was rolled, and adding up the numbers. Here's a musical version! You'll just need to create a rhythm die using a wooden cube or foam cube. Students are instructed to roll the die, write down what they roll, and build measures. If the note they roll is too big to fit in the measure they are working on, they must re-roll until the right one is rolled. When each line is complete, students can clap and count the rhythm to see how it sounds.
Check out
this post
to read more.

Scale and Arpeggio Fingerings (2 Octaves) Reference Sheet
» 86.0 KiB - 17,361 hits - 5 December 2010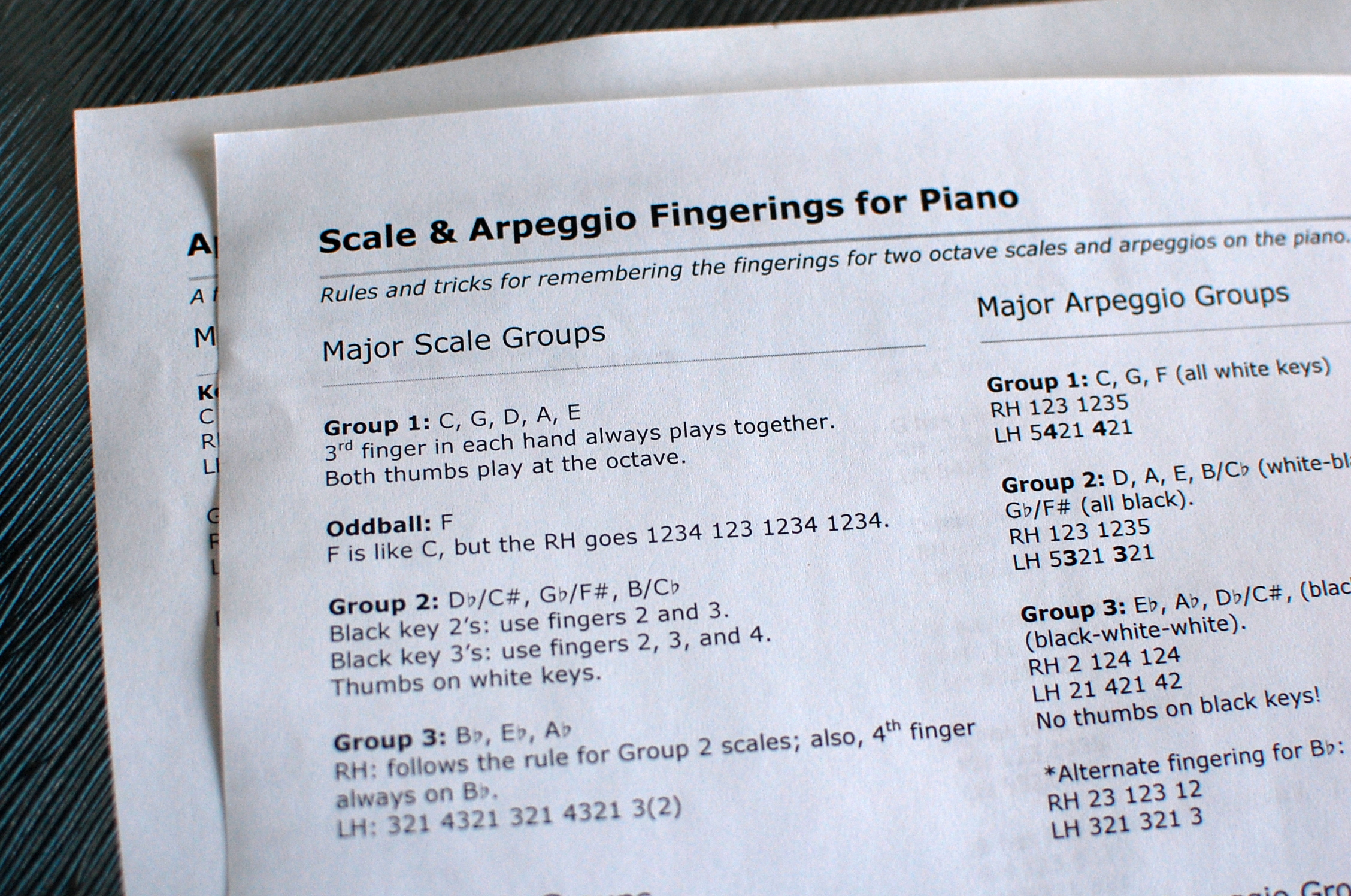 This handy reference sheet is designed to help students keep 2-octave scale and arpeggio fingerings straight in their heads once they've gotten them under their fingers! If you teach a college-level section of Class Piano, this just might be gold to your students. Page 1 lists the scales/arpeggio fingerings in similar groupings and lists rules and tricks for remembering them. Pages 2 and 3 have a complete listing of each major and minor scale's and arpeggio's fingering.
Click here
to view the original blog post about this.

Scales & Primary Chords worksheets 1-4
» 221.2 KiB - 2,866 hits - 17 March 2012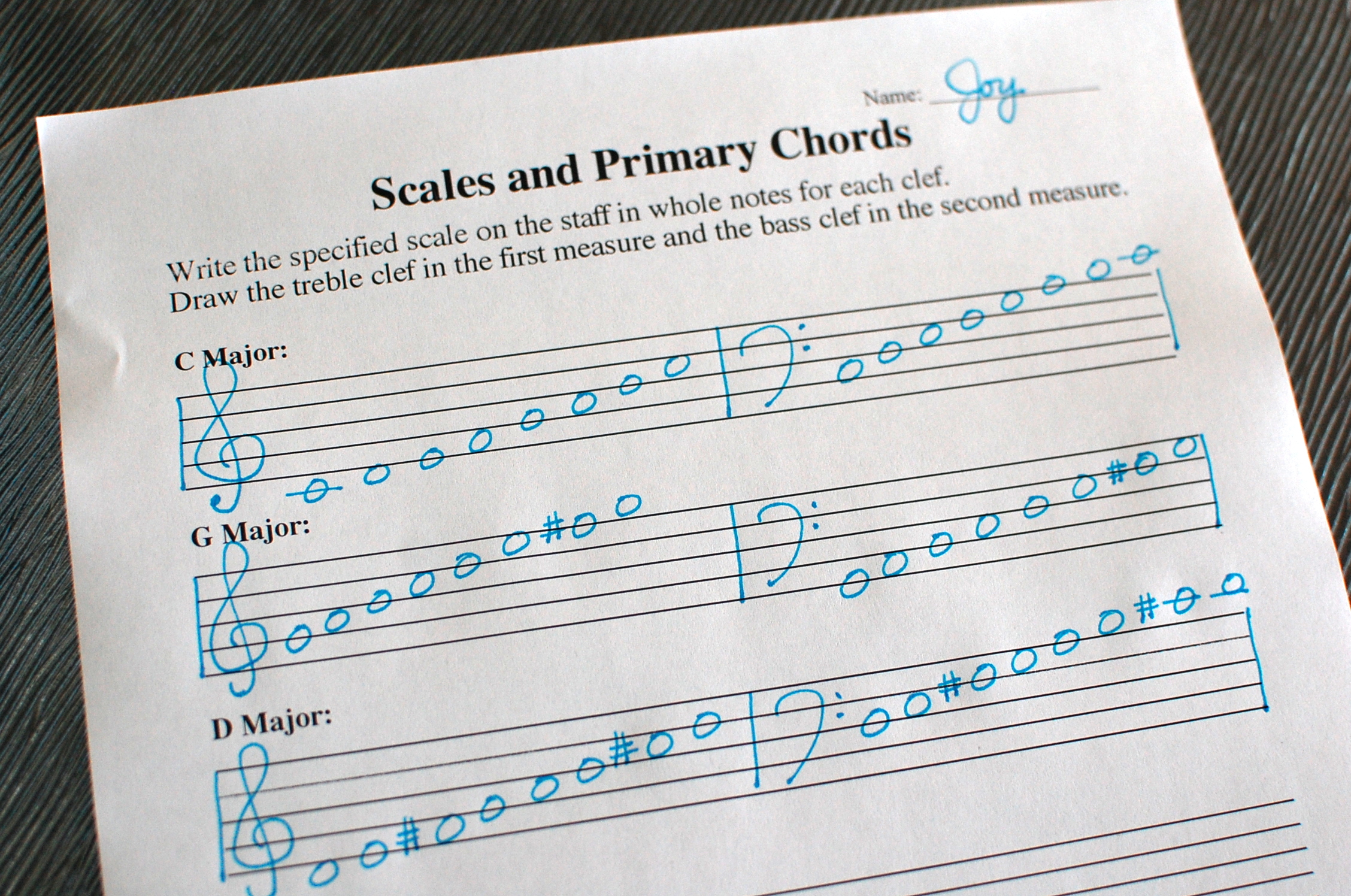 This set of worksheets is designed for the intermediate/advanced student who is already familiar with the scales and primary chords for all major keys, and perhaps could use some review in writing them out on the staff. However, this worksheet could also be used during a group lesson while introducing these ideas for the first time.
Check out
this post
,
this post
,
this post
,
this post
to read more.

Sharps & Flats Worksheet
» 141.9 KiB - 4,864 hits - 13 March 2010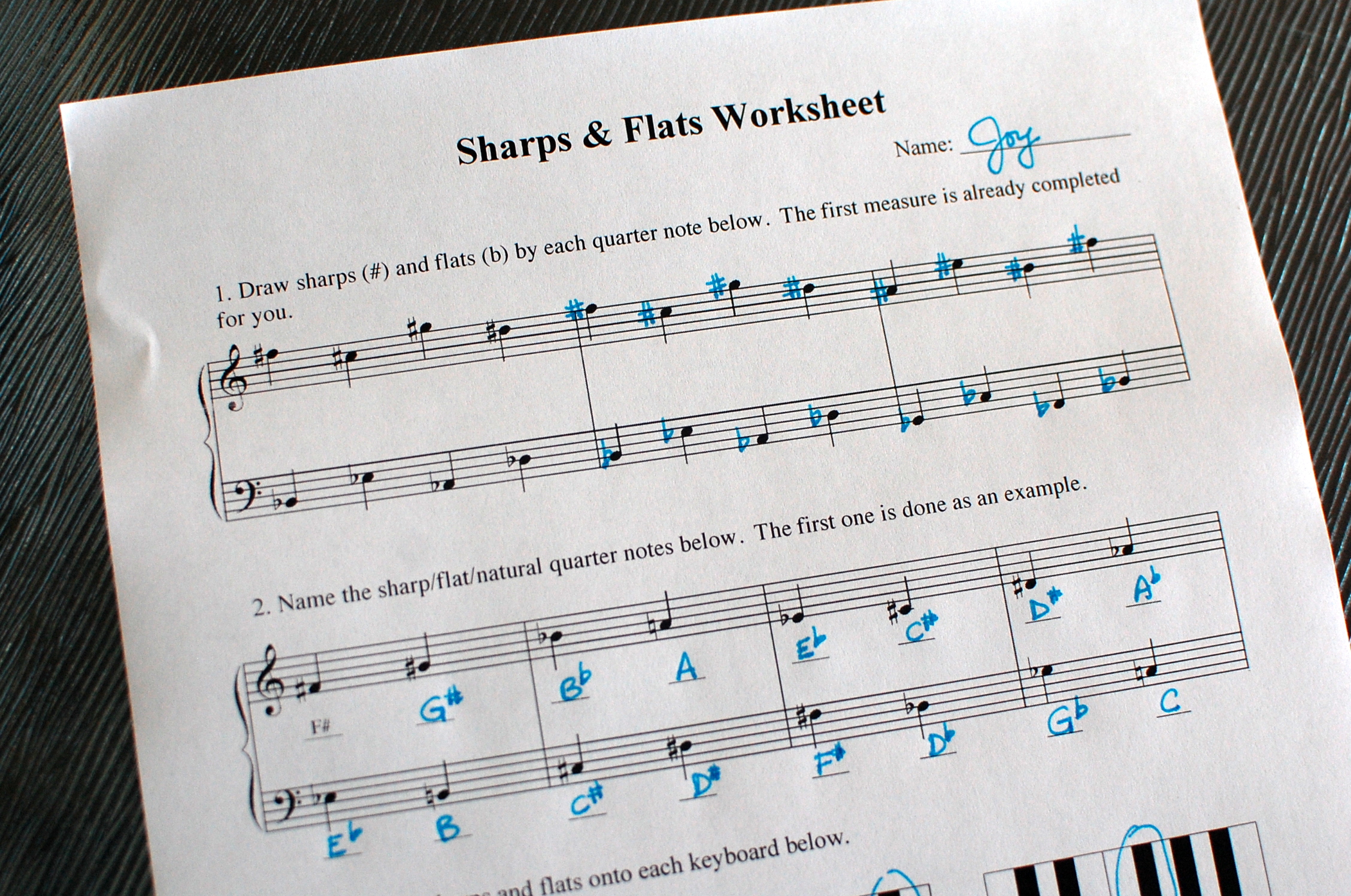 In this worksheet, the student will practice drawing sharps and flats, identifying sharped and flatted notes on the staff, and locating sharped and flatted notes on the keyboard. This simple worksheet is a great way to check whether a student understands the concept behind sharps and flats.
Check out
this post
to read more.

Signs for Beginner Piano
» 1.4 MiB - 3,244 hits - 10 September 2012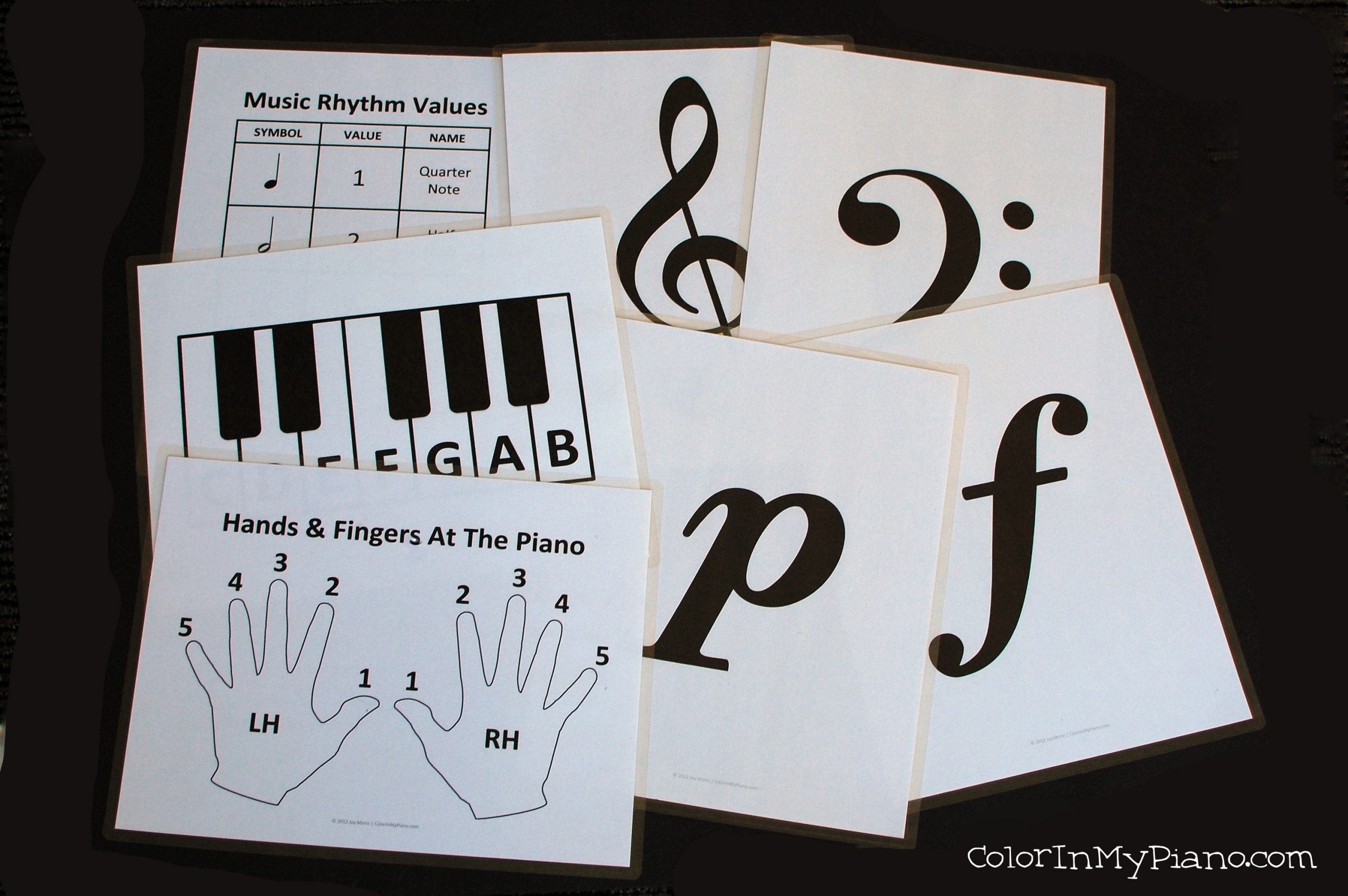 This 11-page pdf contains a collection of 8.5 x 11 inch signs to print for use with beginner students in class or private lesson settings. They can be held up while teaching a new concept, hung on the wall, or used for various games with your students. The signs illustrate the names of the white keys on the piano, piano fingering, a chart of rhythm values, treble/bass clef, line/space notes, and the dynamics. Read more here.

Spinners
» 1.1 MiB - 1,636 hits - 2 July 2012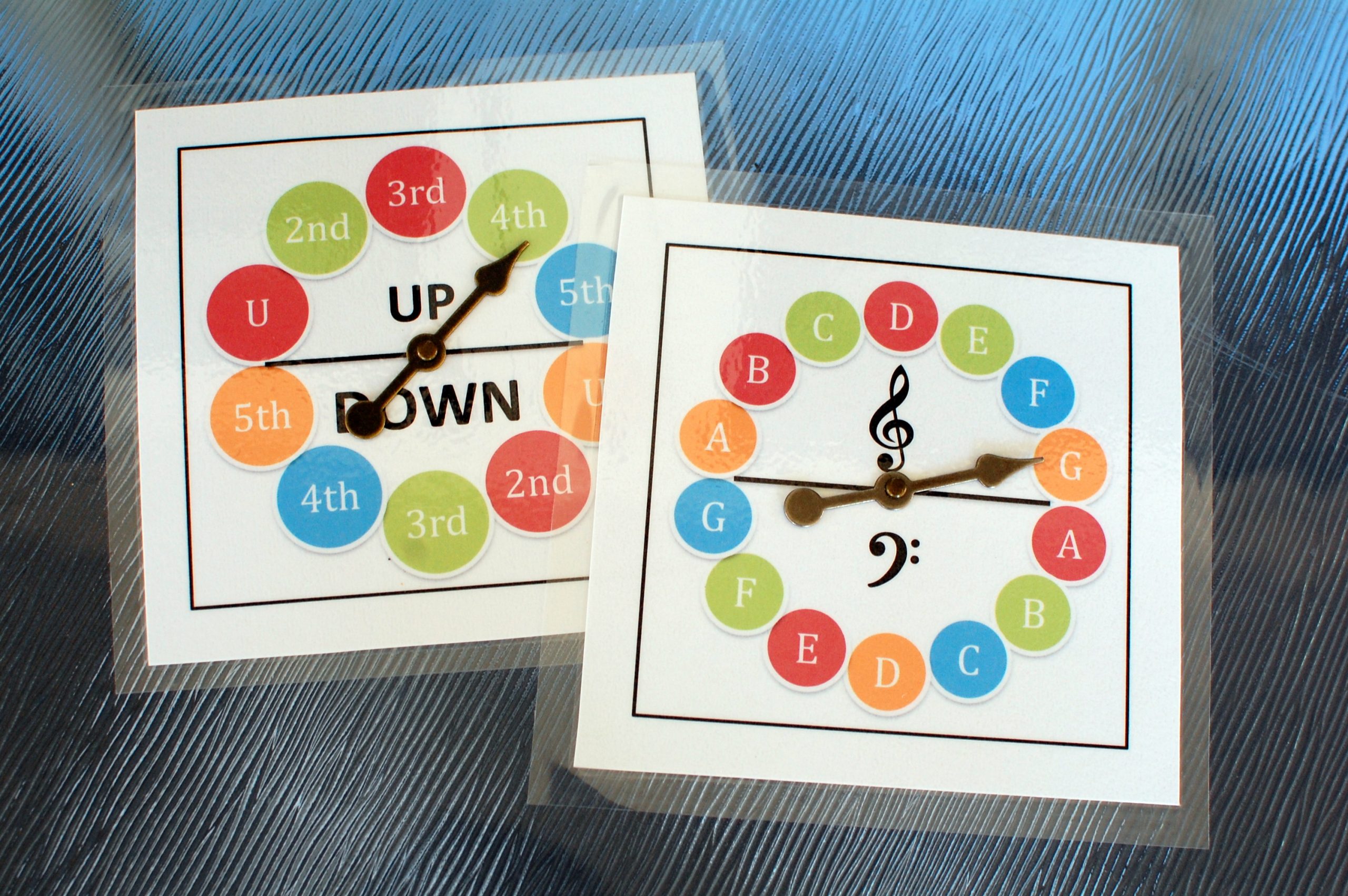 This pdf contains four different spinners that may be useful for a variety of games: (1) The letters of the musical alphabet; (2) notes/rests; (3) Intervals unison through fifth; (4) a simplified version of notes/rests so that there are no eighth notes. All you have to do is print, laminate (optional), and install a spinner (available at teacher supply stores or the scrapbooking section of craft stores). Stay tuned - I will probably be adding more spinners in the future!
Check out
this post
to read how these spinners were used in my Musical Olympic Camp games.

Staff Paper - A-J
» 180.5 KiB - 2,295 hits - 22 July 2012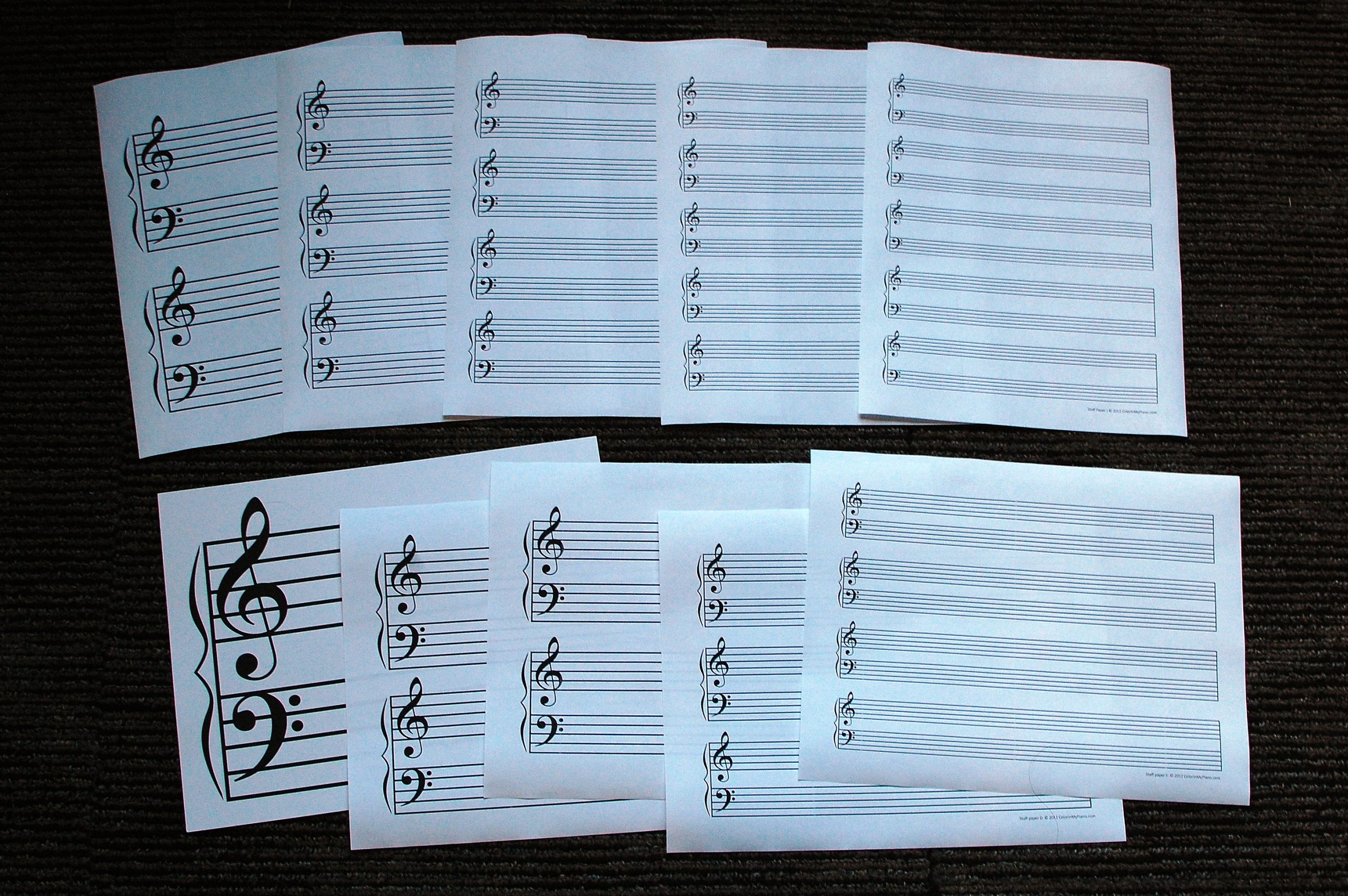 This pdf contains 10 different sizes of staff paper. The other sizes are suitable for students of various ages, for any type of composition or theory assignment. I laminated a few copies of the largest size of staff paper (A), and enjoy using it for theory games with group classes. We use colorful glass gems as the notes for the staff, or use a dry erase marker.

Staff Paper -- Large Staff for Simple Compositions
» 28.4 KiB - 1,989 hits - 4 November 2011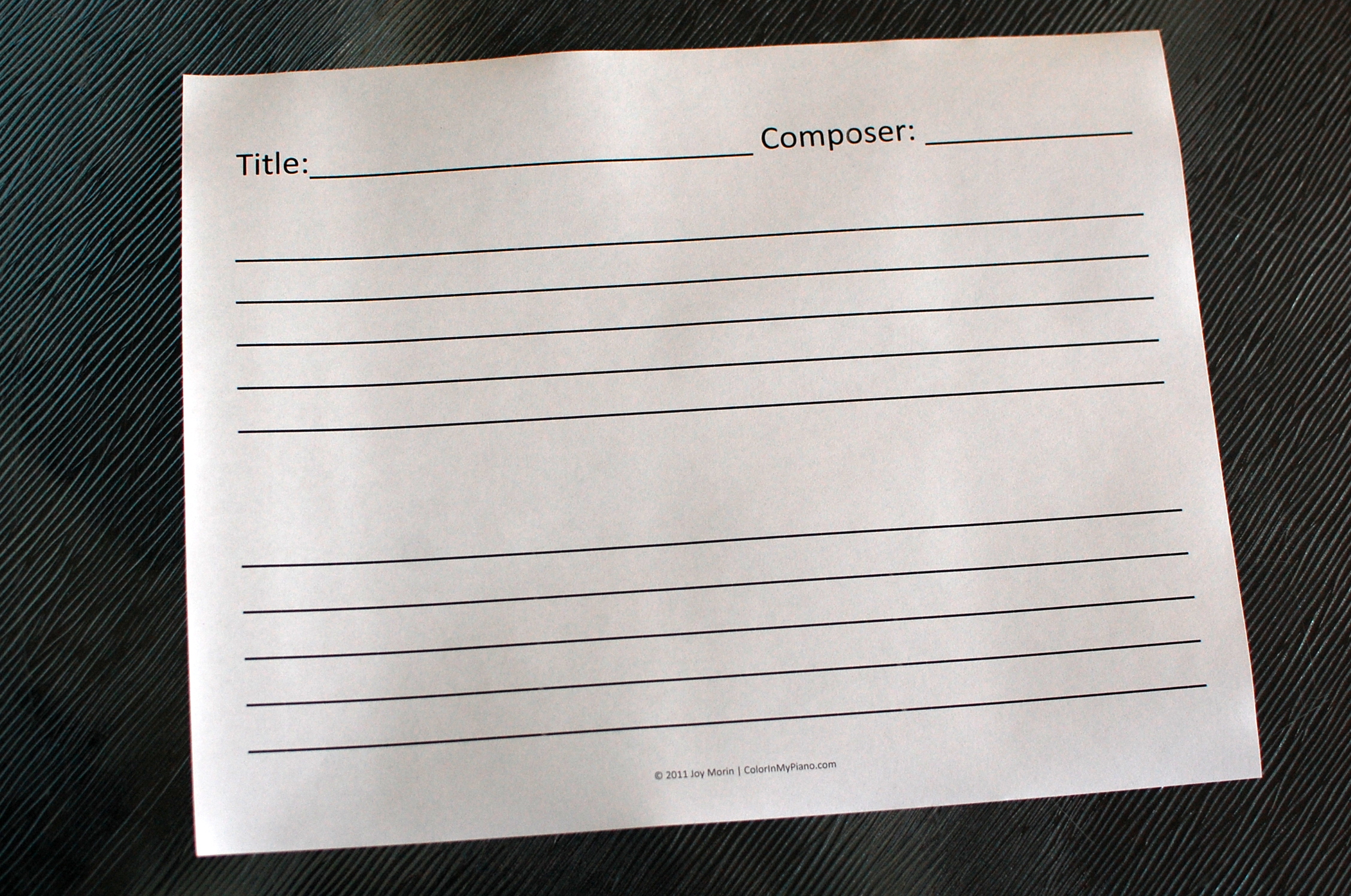 This large staff paper is appropriate for use with young students. I use this paper when teaching about reading staff notation for the first time. With students, together we notate a simple composition they create on-the-spot at the piano. After getting the notes down, we use colorful markers to label the notes (A, B, C, etc) and write in finger numbers, so they can continue playing their compositions at home. Students love the idea of being composers!
Click here
to view the original blog post about this printable.

Staff Paper for Composing with Stickers
» 93.0 KiB - 2,448 hits - 27 February 2012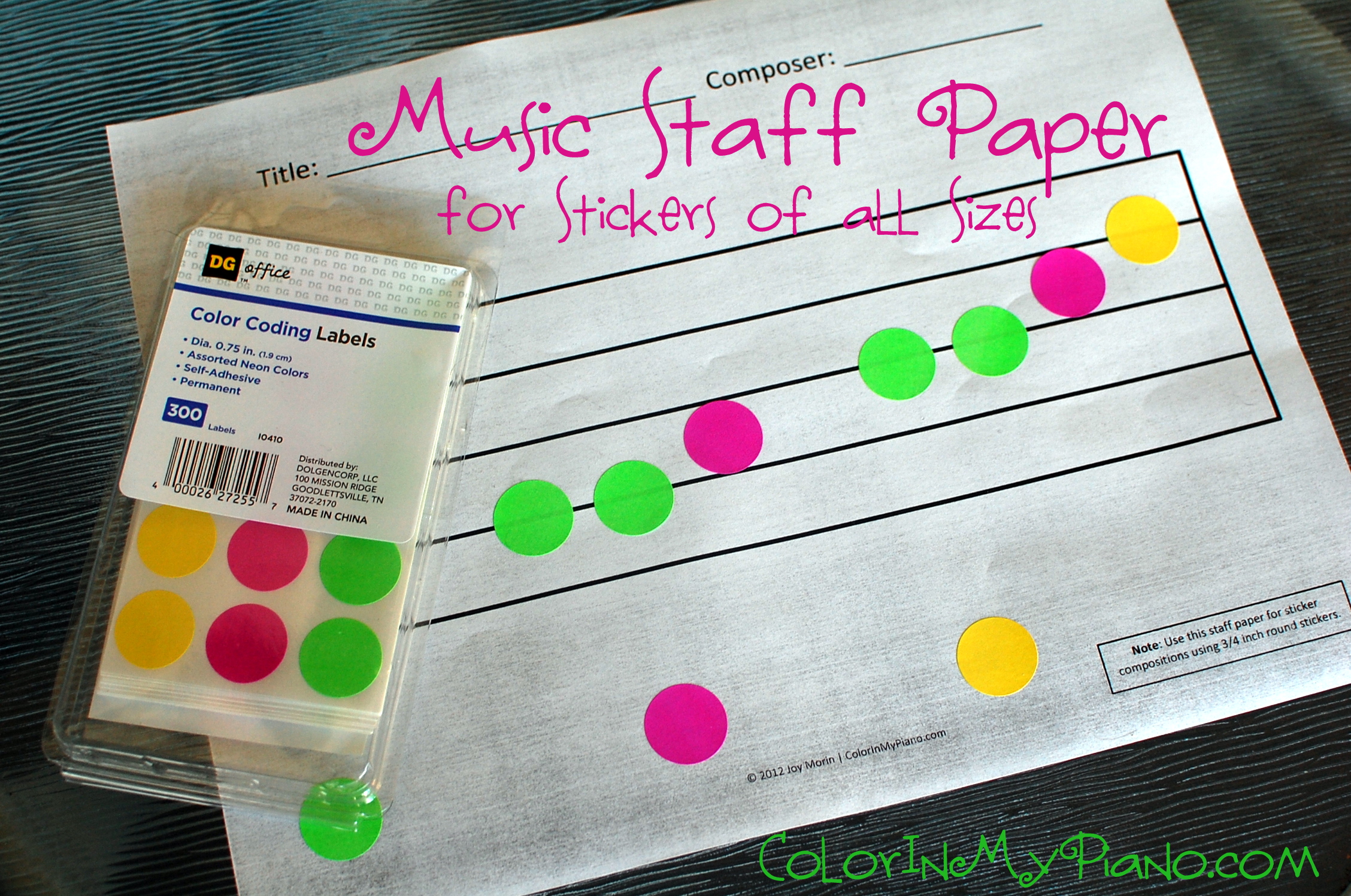 I love having my piano students compose their own music, even when they are young beginners. I try to make it easy and fun for them. The pdf contains a variety of various sizes of staff paper for use with any stickers you might find. On the bottom of each page in the pdf, it indicates what size stickers you'll need with each sheet of staff paper.
Click here
to view the original blog post about this printable.

Student Assessment Template
» 119.5 KiB - 1,927 hits - 21 May 2012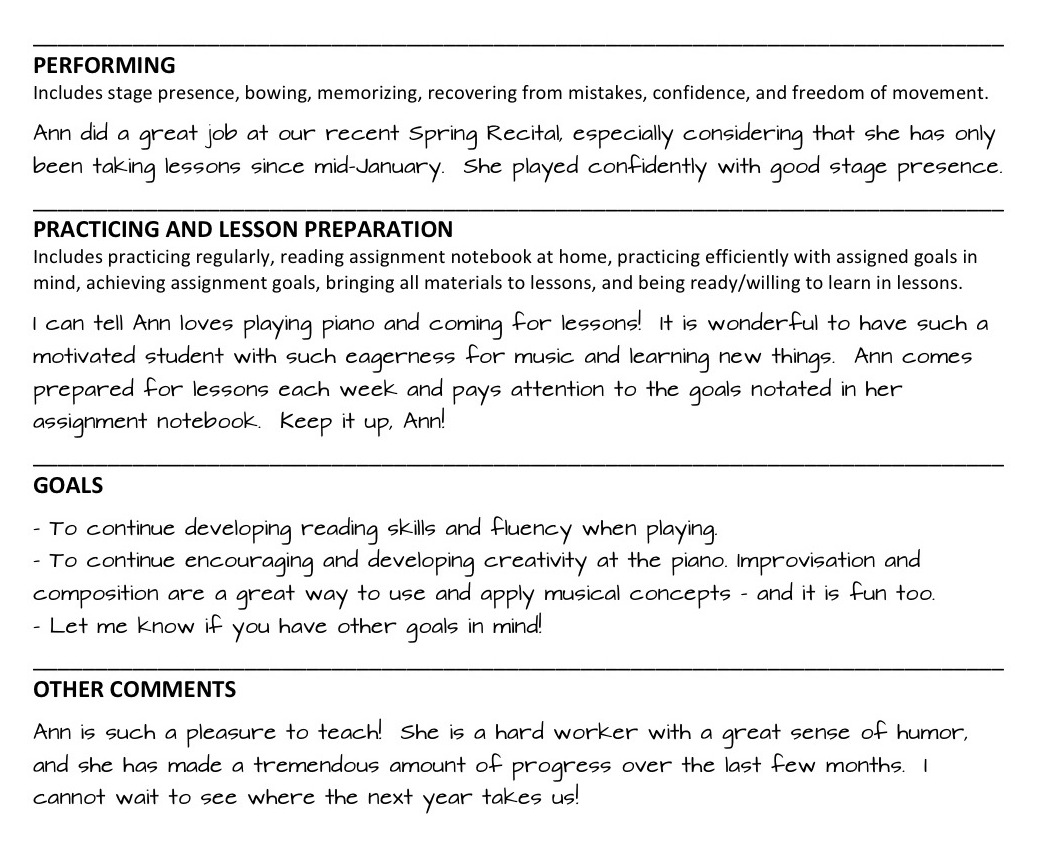 This template is designed for completing end-of-the-year assessments of your piano students. It is intended to help communicate to the student and parent about the progress the student is making in various areas and the goals that you as a teacher have in mind for them in upcoming months. It is a bit like a report card, but with no actual grades. I used a fun, handwriting font called "Architect's Daughter" to help distinguish my comments from the template. Check out the full blog post about this template here.

Student Scheduling Preferences
» 134.6 KiB - 2,254 hits - 16 August 2011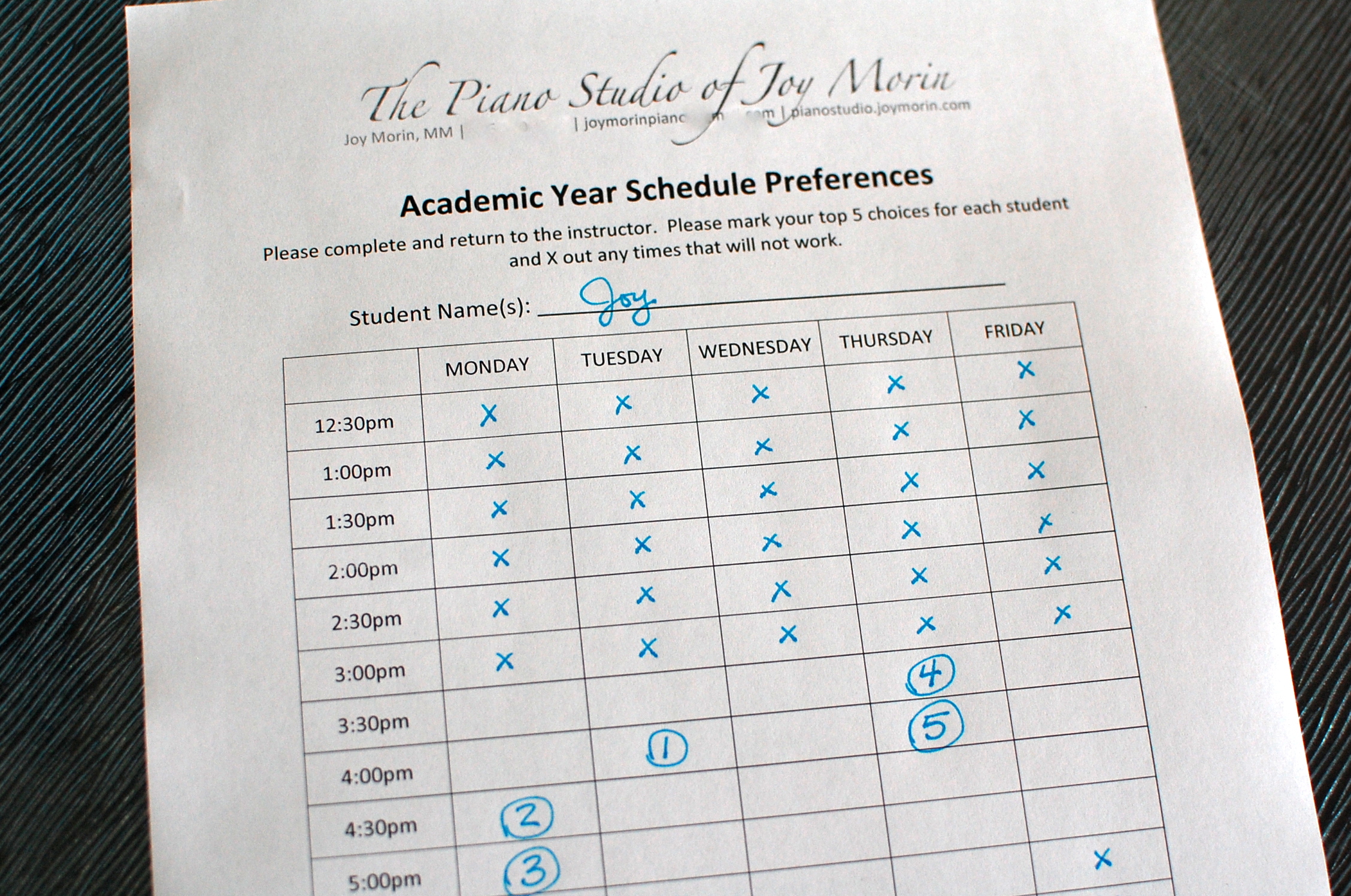 This 2-page document includes an empty scheduling table that allows students/parents to fill in their schedule and indicated their top 5 choices for lesson times, and to X out any times that will not work. The first page is for the school year schedule and the second page is for the summer schedule. This file is a Microsoft Word (docx) file, so it can be suitably edited to your needs. There is room at the top of each page for your studio name or logo.
Check out
this post
to read more.

Studio Planning Calendar
» 35.7 KiB - 1,991 hits - 29 August 2011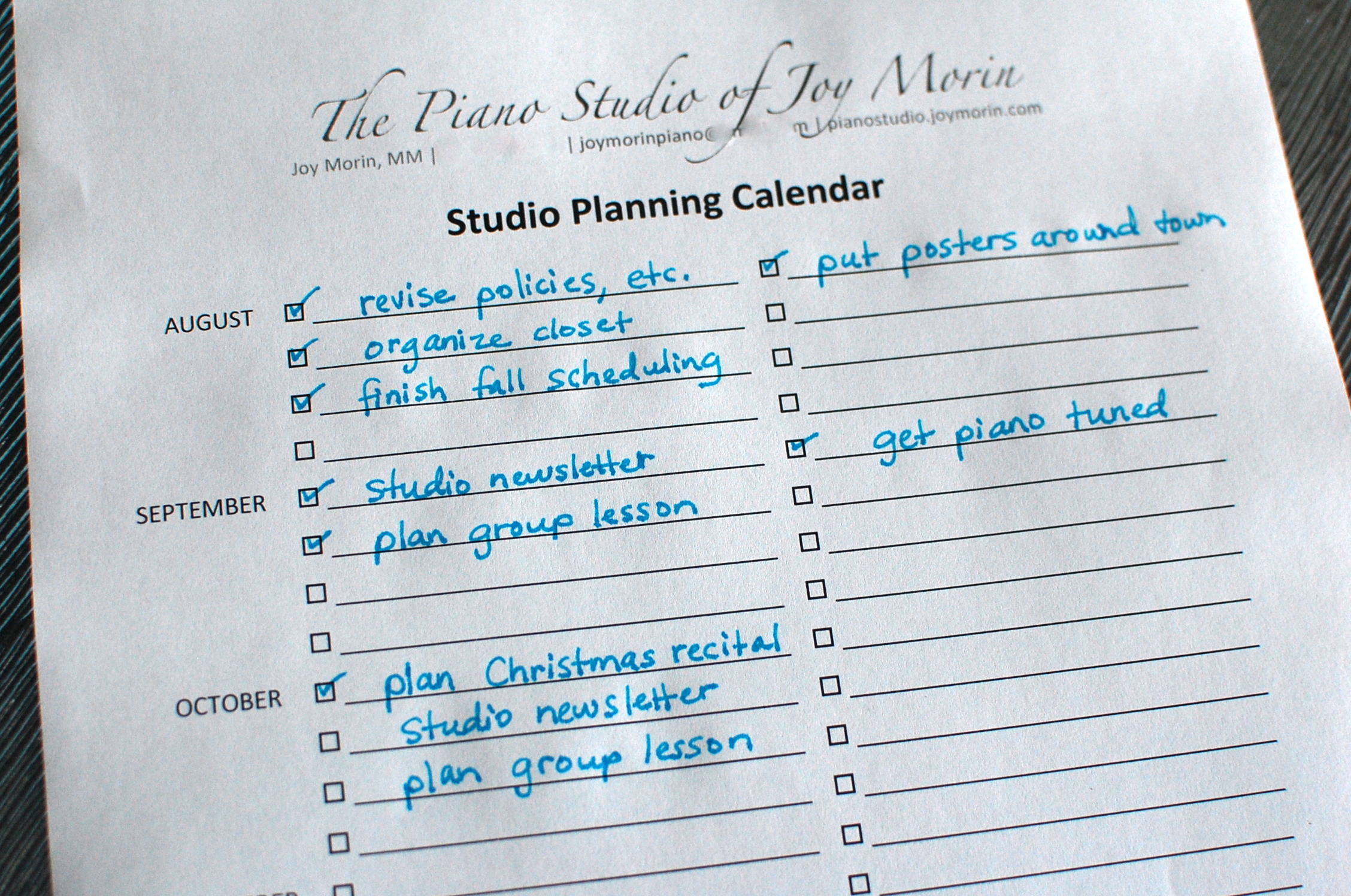 I needed some kind of calendar to keep track of both short-term and long-term studio-related projects...and came up with this! Each month has space for 8 dates or "to-do" items, such as piano tunings, recital plans, monthly newsletters, advertising, and summer camp planning. The check boxes are so you can "check off" those to-do items with the utmost satisfaction.
Click here
to see the original blog post.

Studio Policies & Procedures (Sample)
» 251.6 KiB - 3,569 hits - 16 August 2011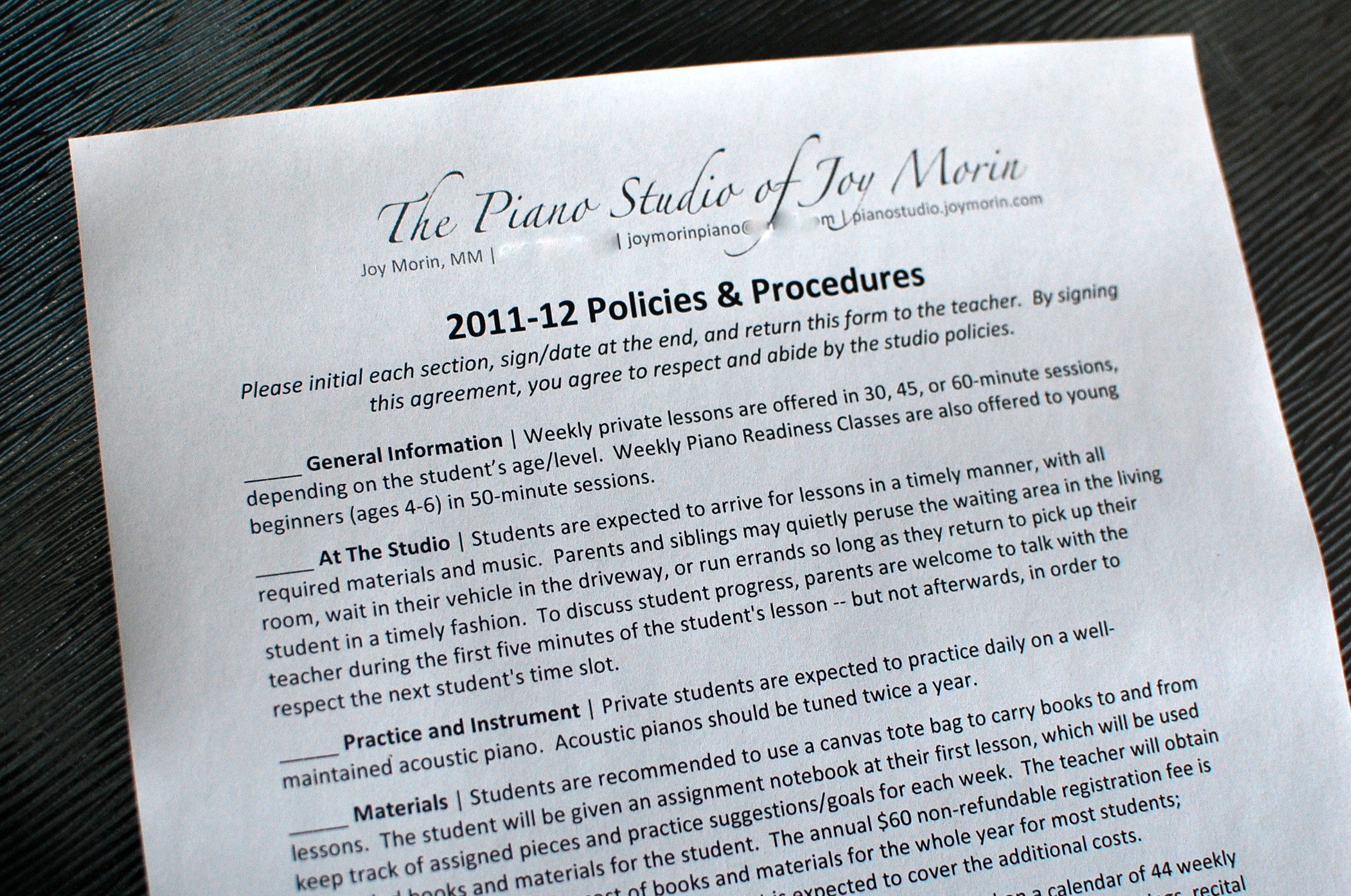 This Microsoft Word (docx) file is a editable sample Studio Policies & Procedures.
If you are making your studio policies for the first time or are looking for ideas for adjusting your current policies, this may help you get started. Check out
this post
to read more.

Swat-A-Rhythm game (with variations)
» 161.1 KiB - 176 hits - 7 May 2013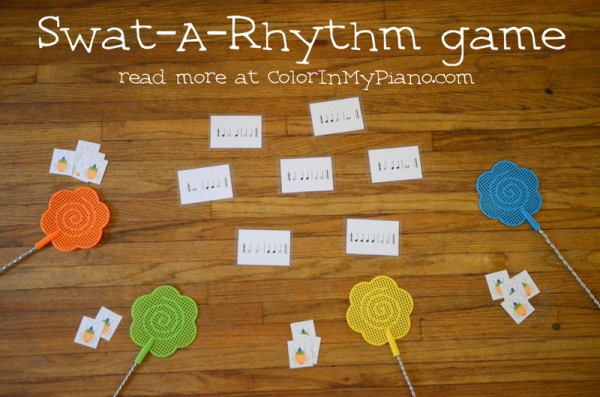 This pdf contains instructions and "bug cards" (for tracking points) for playing the Swat-A-Rhythm game. You will need a fly swatter for each student and a few rhythm cards to put out on the floor. After the teacher claps one of the rhythm cards, the students must race to swat the correct card. The first student to swat the correct card wins a bug card. The student with the most bug cards at the end is the winner. There are many possible variations to this game, including Swat-A-Note, Swat-A-Piano-Key, Swat-An-Interval, Swat-A-Melody, and Swat-A-Term. Read more about this game at this post.

The Amazing Keyboard Race game
» 1.3 MiB - 2,058 hits - 15 March 2012

Here are instructions for playing what I like to call "The Amazing Keyboard Race game." It's a great game for beginners who need more practice remembering the letter names of the piano keys. You just need a piano (or silent keyboard), some game pieces, and a way to randomly select letters of the musical keyboard. You and your student(s) can race across the keyboard to see who reaches the treble side first!
To view the original blog post about this game,
click here
.

Treble & Bass Clef Dot-To-Dot Worksheets
» 68.0 KiB - 3,930 hits - 7 June 2012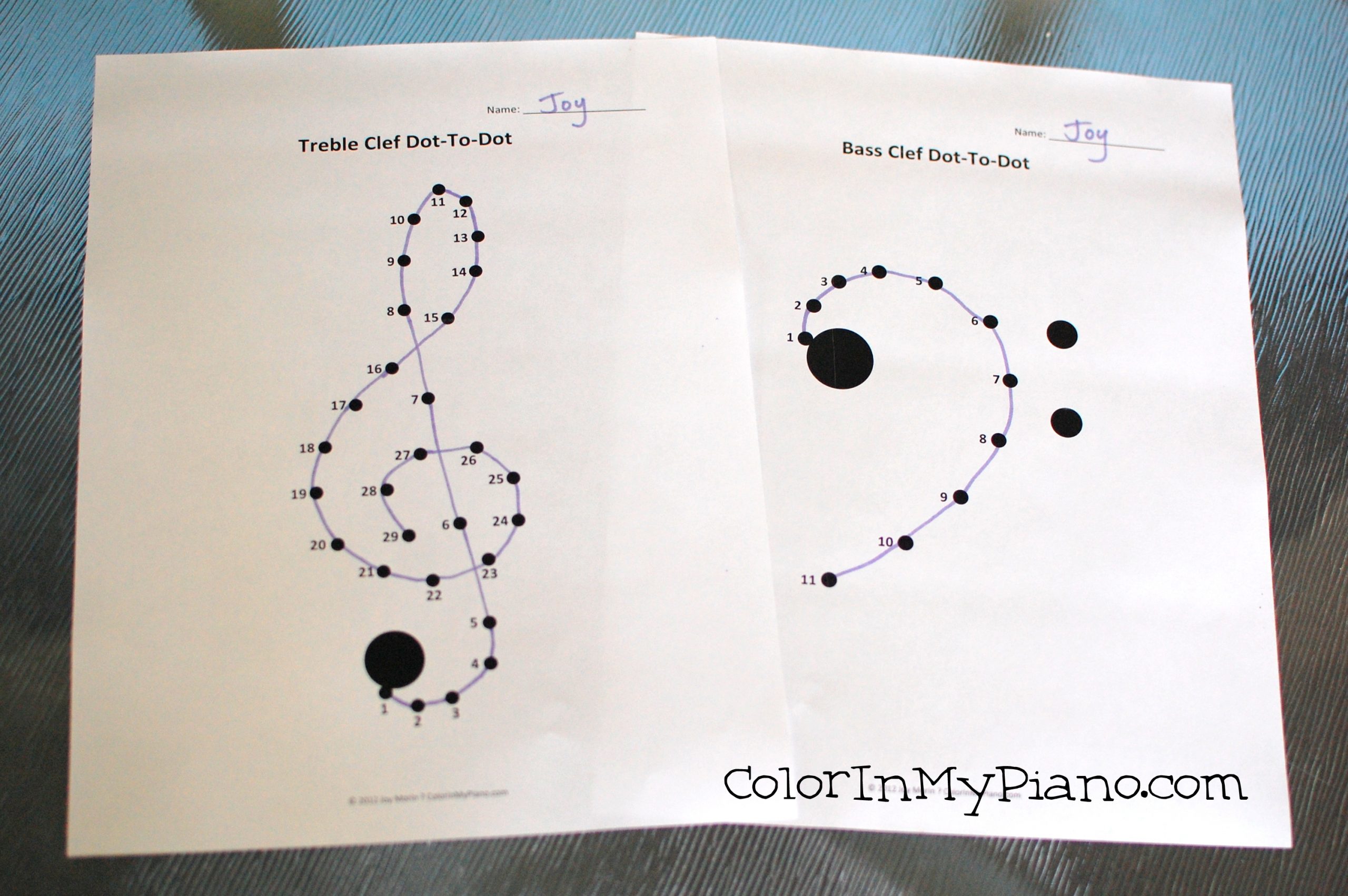 To teach my beginner students how to draw and recognize the treble and bass clef, I created this pair of dot-to-dot worksheet for the treble and bass clefs. The dots and numbers are nice and big for little eyes to see. Enjoy!
Check out
this post
to read more.

Treble Clef and Bass Clef Worksheet
» 159.3 KiB - 4,760 hits - 5 March 2012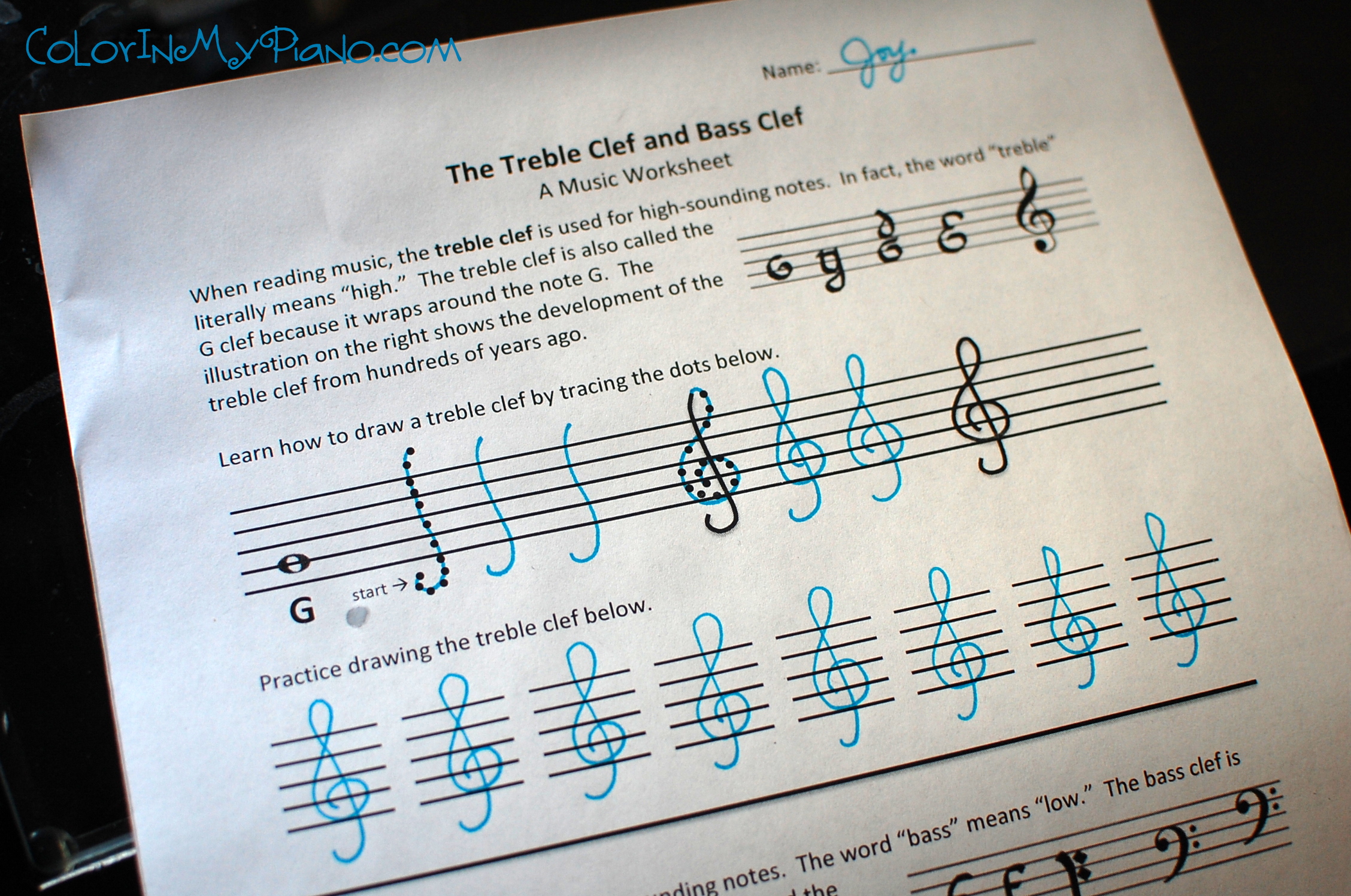 This worksheet uses dotted lines to teach the student how to draw the treble clef and bass clef. I also included a couple of illustrations in this worksheet showing the development of the clefs over the centuries. Our modern clefs still bear some resemblance to the letters G and F, which can be a helpful tool for students for remembering those landmark notes. Students will find this bit of history interesting and memorable as they learn about the clefs!
Click here to view the original blog post about this printable.

Twinkle, Twinkle, Little Star
» 46.8 KiB - 213 hits - 14 April 2013
This pdf is a simple arrangement of Twinkle, Twinkle, Little Star. Younger students can simply play the two-handed melody as written. Older students can play the entire melody in the RH and accompany with a LH accompaniment, reading the chord symbols provided above the staff. Or, two students can play a duet with one student playing the melody, and the other playing a two-handed chordal accompaniment.

Whiteboard Background - for 8.5x11'' Plexiglass Frame
» 20.1 KiB - 568 hits - 26 February 2013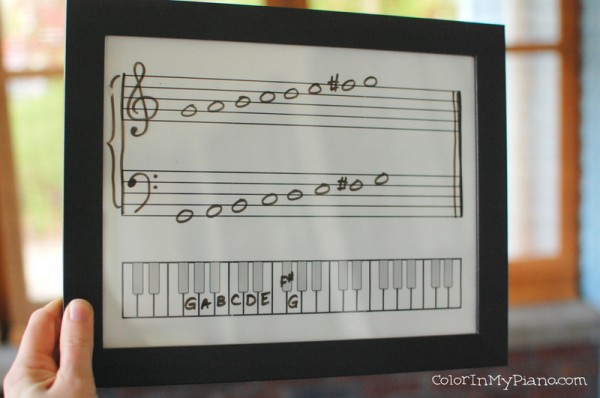 Music whiteboards cost a pretty penny in music catalogues, so I decided to make my own. I bought this 8.5x11'' frame from IKEA for under $3. I chose one that had plexiglass instead of glass, so that I won't have to worry about it breaking if it gets dropped. The frame is a sturdy plastic. On my computer, I designed the staff and keyboard pictures on a horizontal piece of paper, printed it, and inserted it into the frame. Easy! Click here to read more about how I use this frame when teaching.

Whiteboard Music Trivia
» 88.1 KiB - 299 hits - 5 March 2013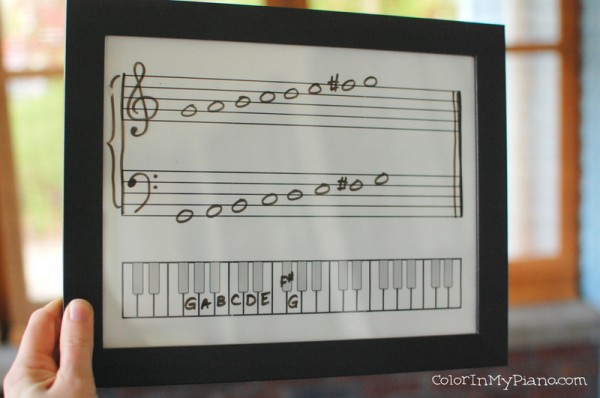 This pdf contains a checklist of beginner-level questions to ask students when playing Whiteboard Music Trivia. To play the game, divide students into teams and give each team a music whiteboard (you can read about making your own whiteboard using a frame here). Each time you ask a question from the checklist, team members should work together to come up with the right answer to write on their whiteboard. The first team to hold up their whiteboard with the correct answer earns a point. Read more about this game here.

Write In The Barlines #1
» 33.4 KiB - 5,543 hits - 28 March 2010
This worksheet is intended for the late elementary / early intermediate level student, to practice understanding the concepts of measures, ties, barlines, and meters in 2/4, 3/4, and 4/4 time.

Write In The Barlines #2
» 32.5 KiB - 3,680 hits - 5 April 2010
This worksheet is intended for the late elementary / early intermediate student, to practice understanding the concepts of measures, ties, barlines, and meters in 2/4, 3/4, 4/4, and 6/8 time.