This page contains FREE piano/theory worksheets, sheet music, lesson plans, and other resources for music teachers and students. Please enjoy using them for personal and educational uses only. I only ask that you do not redistribute the files on other websites and or alter the files in any way. Thank you!
Use the Printables navigation menu at the top to browse through the other categories of files.
Other Resources
Displaying 41 to 42 of 42 Other Resources files.

Students Listed by Level
» 31.0 KiB - 619 hits - 27 January 2016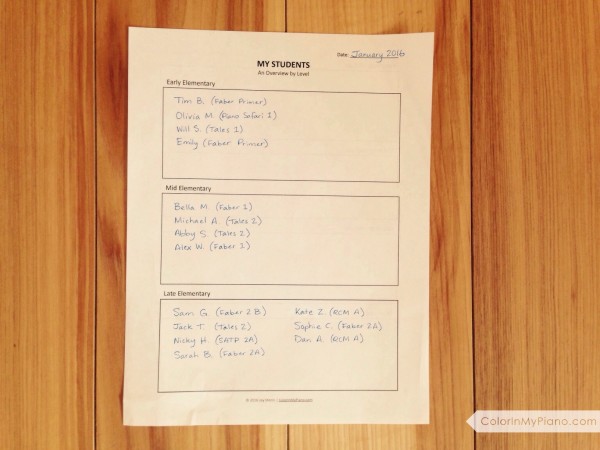 This handy PDF can help you create an overview of your current students' playing abilities, organized by level. This process can be helpful to the teacher not only when choosing recital repertoire for student performances, but it also for creating a benchmark to compare to previous and future years.
Click here
to read the original blog post about this and to learn more about "leveling."

Whiteboard Background - for 8.5x11'' Plexiglass Frame
» 20.7 KiB - 5,976 hits - 26 February 2013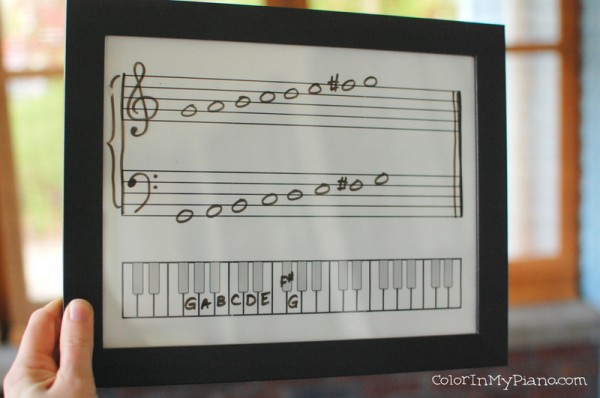 Music whiteboards cost a pretty penny in music catalogues, so I decided to make my own. I bought this 8.5x11'' frame from IKEA for under $3. I chose one that had plexiglass instead of glass, so that I won't have to worry about it breaking if it gets dropped. The frame is a sturdy plastic. On my computer, I designed the staff and keyboard pictures on a horizontal piece of paper, printed it, and inserted it into the frame. Easy! Click here to read more about how I use this frame when teaching.