This page contains FREE piano/theory worksheets, sheet music, lesson plans, and other resources for music teachers and students. Please enjoy using them for personal and educational uses only. I only ask that you do not redistribute the files on other websites and or alter the files in any way. Thank you!
Use the Printables navigation menu at the top to browse through the other categories of files.
Other Resources
Displaying 1 to 34 of 34 Other Resources files.

Black Key Group Sorting Cards
» 258.0 KiB - 17,372 hits - 20 November 2012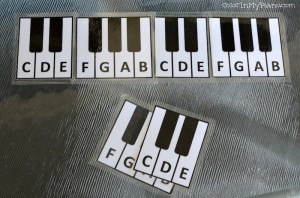 These cards are a great manipulative to use with young beginners when you are first introducing them to the keyboard. Students can use the cards to build a keyboard on the floor, alternating the groups of 2 and 3 black keys. Or, students can use these at the piano, and lay the cards right on the piano keyboard, matching the groups of black keys appropriately. I printed a few sets of these cards, laminated them, and put them in zipper bags. This short activity is great for Piano Readiness Classes. There are two versions included in the pdf: one with the letter names on the keys, and one without.
Click here
to read the original blog post about this.

CD Lending Library Printables
» 110.6 KiB - 157 hits - 13 November 2014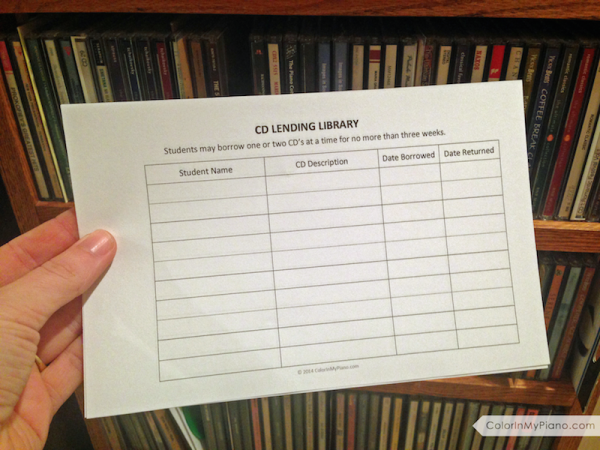 Why not dust off your CD's and create a lending library for your students to enjoy? This Microsoft Word document contains two things: (1) customizable dividers for organizing your CD library, and (2) a form that students fill out for loaning CD's from your lending library. Directions for customizing and printing the dividers can be found within the Word doc. Read the blog post about this idea here.

Composition/Improv Prompt - Free Sample
» 102.8 KiB - 3,579 hits - 21 October 2013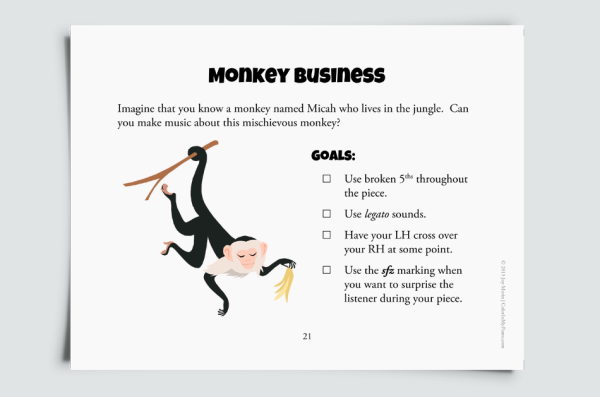 This one-page pdf is a FREE sample page taken from the "Prompts for Piano" e-book available in the Color In My Piano shop. "Prompts for Piano" is designed to provide an easy way for teachers to guide beginner and elementary students through composition or improvisation. I created the prompts to help my students get inspired during the initial stages of a composition assignment and to provide structure and guidance as they bring the piece to completion. You can read more about "Prompts for Piano" here in the Shop.

Concepts to Introduce Using Improvisation
» 53.5 KiB - 7,822 hits - 30 January 2010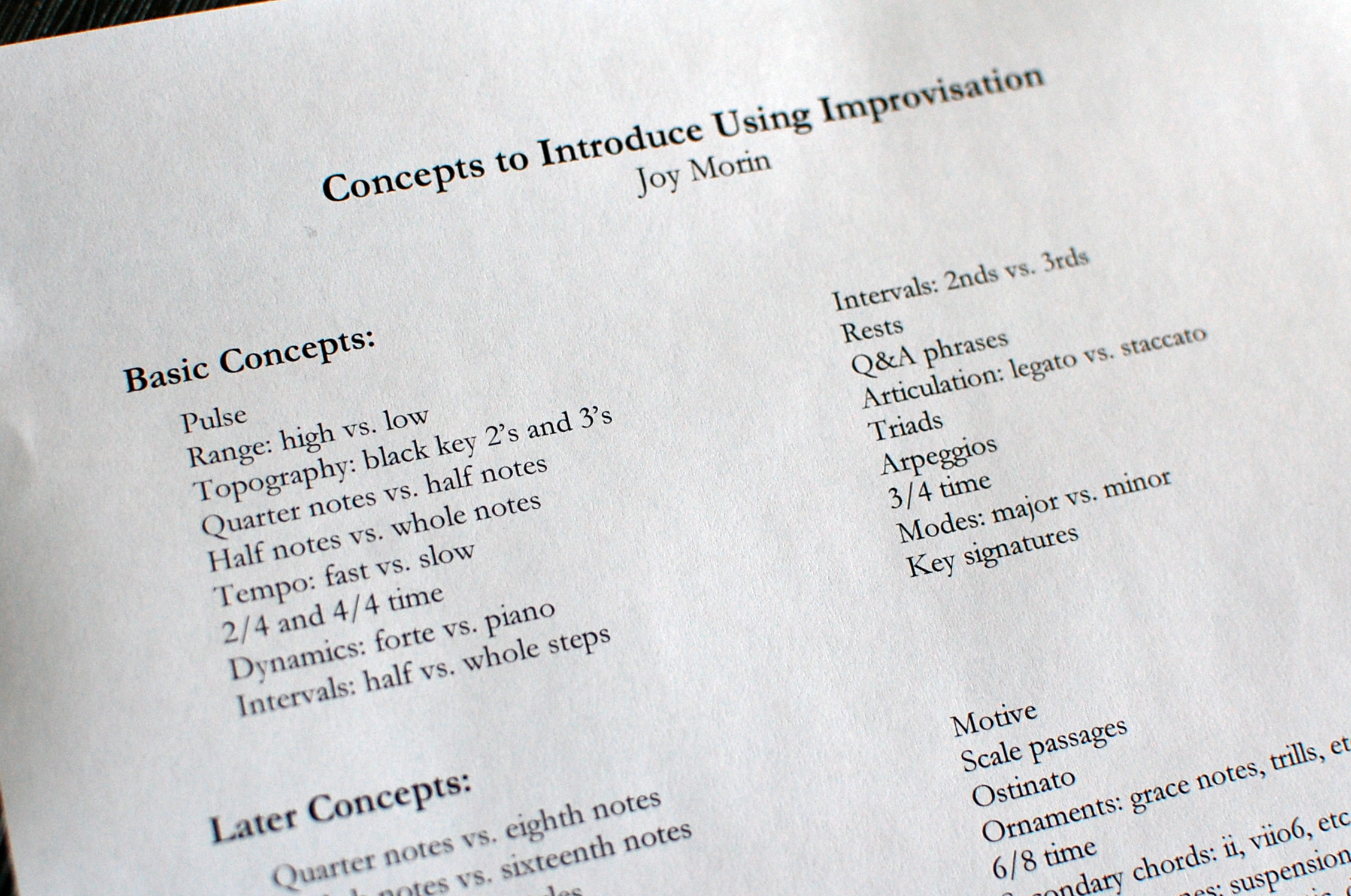 This pdf lists various musical concepts which can be taught through improvisation. Using concept-based improvisation is an efficient way to encourage improvisation with your students, while reinforcing the things they are learning in their piano method books. The list is divided into two sections: beginner concepts, and more advanced concepts.
Check out
this post
to read more.

DIY Silent Mini Keyboards
» 751.2 KiB - 7,714 hits - 25 October 2010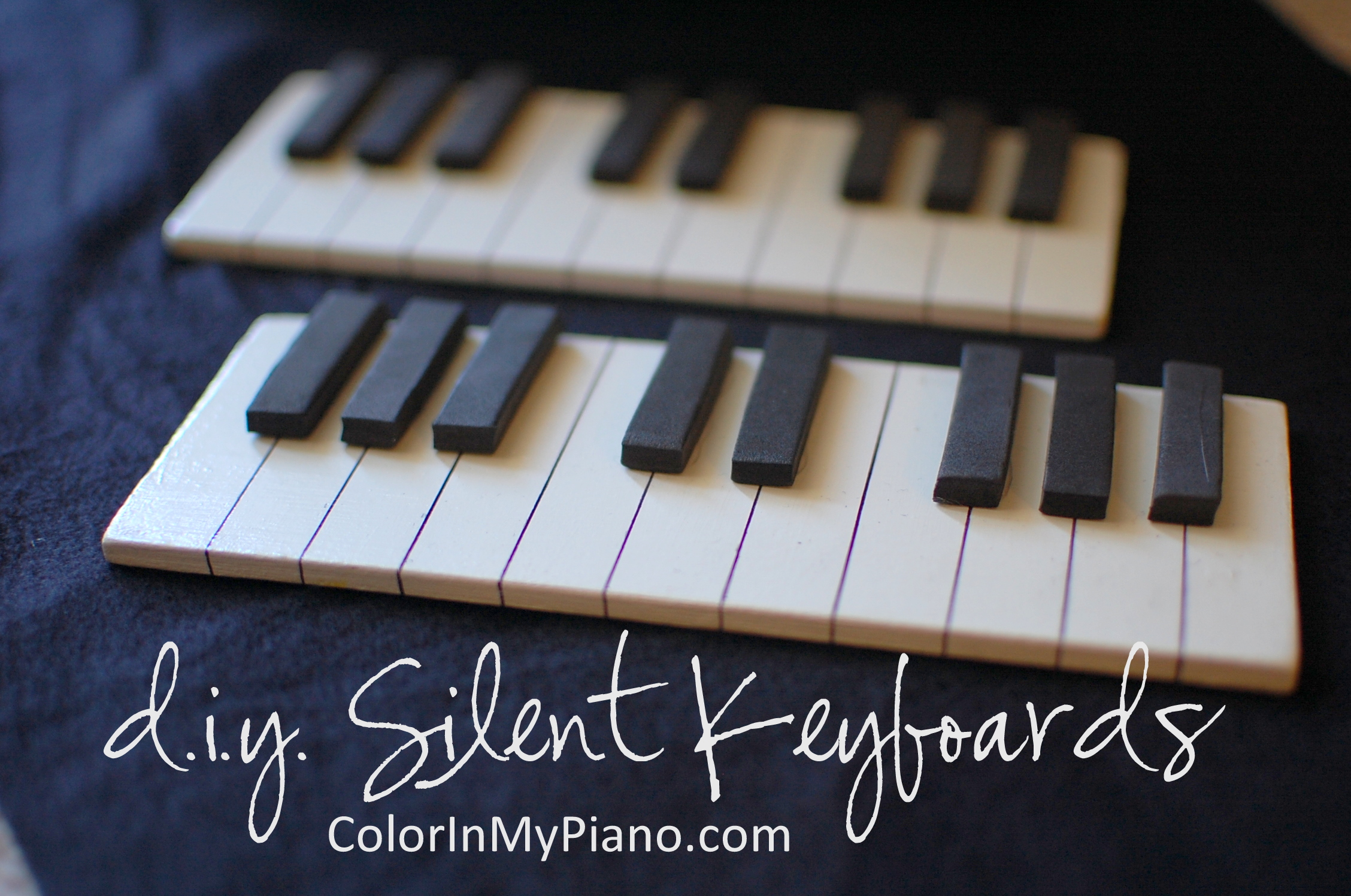 This pdf contains do-it-yourself instructions for making your own set of 6 silent mini keyboards using wooden slats and black foam. Silent keyboards can be used in a variety of ways, ranging from pre-piano classes with young children to advanced theory classes with older students. Try using glass gems on the keyboards to form chords and 5-finger patterns. Be creative, and see what games and activities you come up with!
Click here
to read the original blog post about this.

Flashcards: Melodic Patterns 1 & 2
» 117.9 KiB - 10,812 hits - 4 October 2009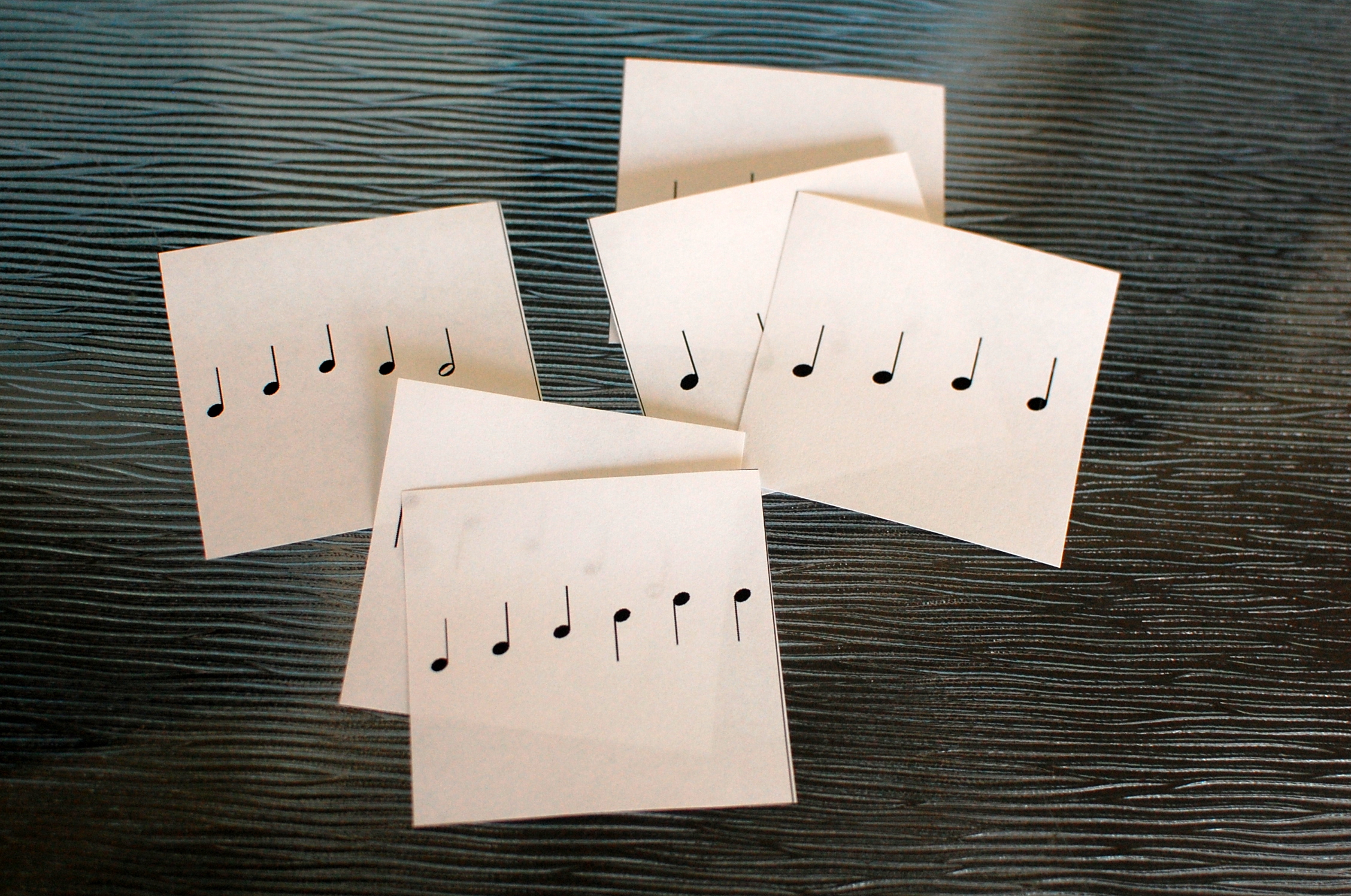 This pdf contains two pages of flashcards of off-staff notes. These flashcards have a variety of uses, mainly for beginner piano students. You could ask the student to: 1) clap the rhythm, 2) play the pattern on the piano, or 3) play the pattern on the piano and then transpose it to another key.
Check out
this post
to read more.

Flashcards: Naming Notes (Middle C Position)
» 45.6 KiB - 15,931 hits - 11 October 2009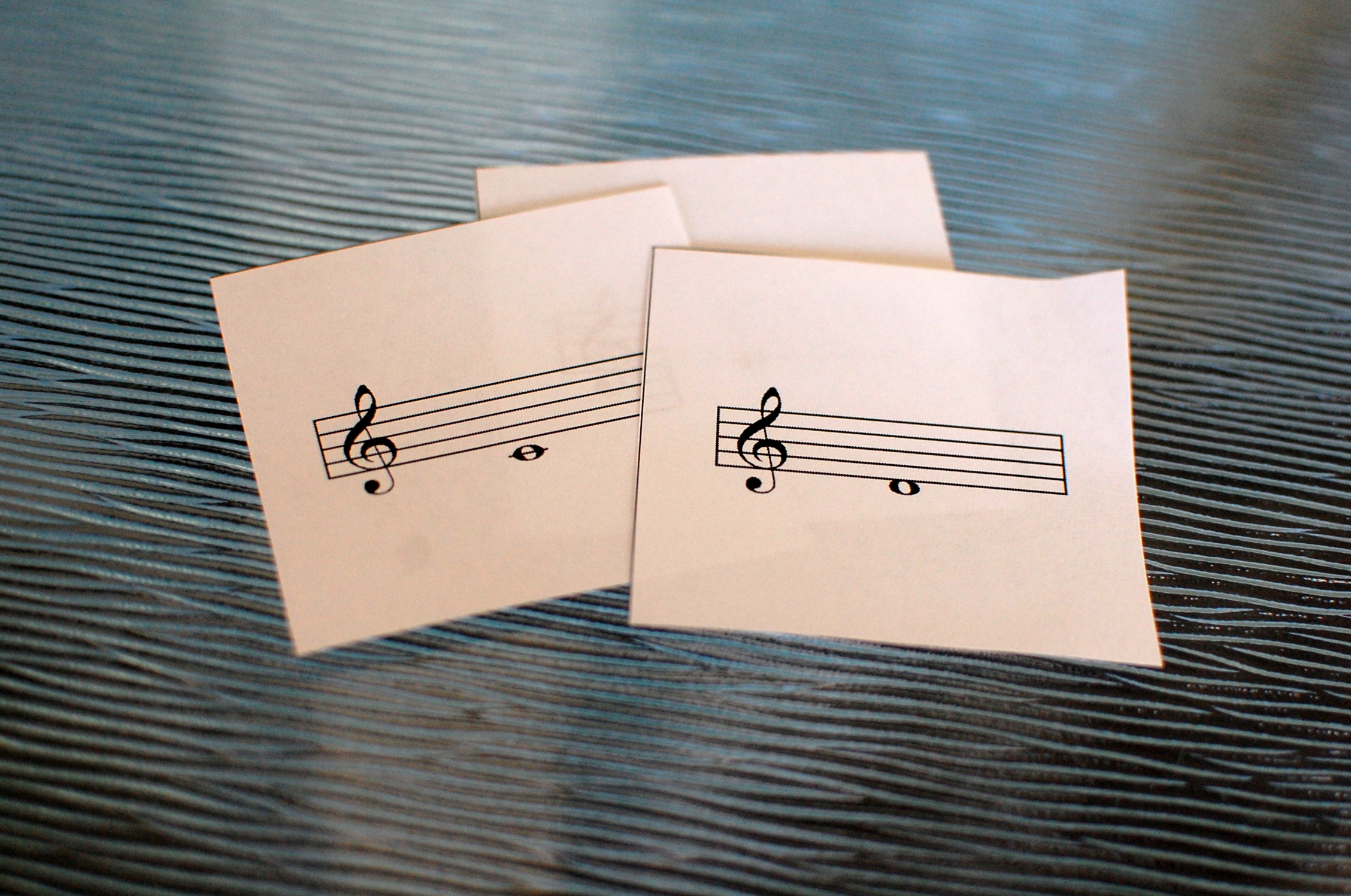 Here is a set of flashcards for the beginner piano student who is learning about reading notes on the staff and playing in the Middle C position.
Just a few minutes a day will greatly improve their note recognition skills! Check out
this post
to read more.

Improvisation & Composition Inspiration Cards
» 4.8 MiB - 5,926 hits - 11 July 2011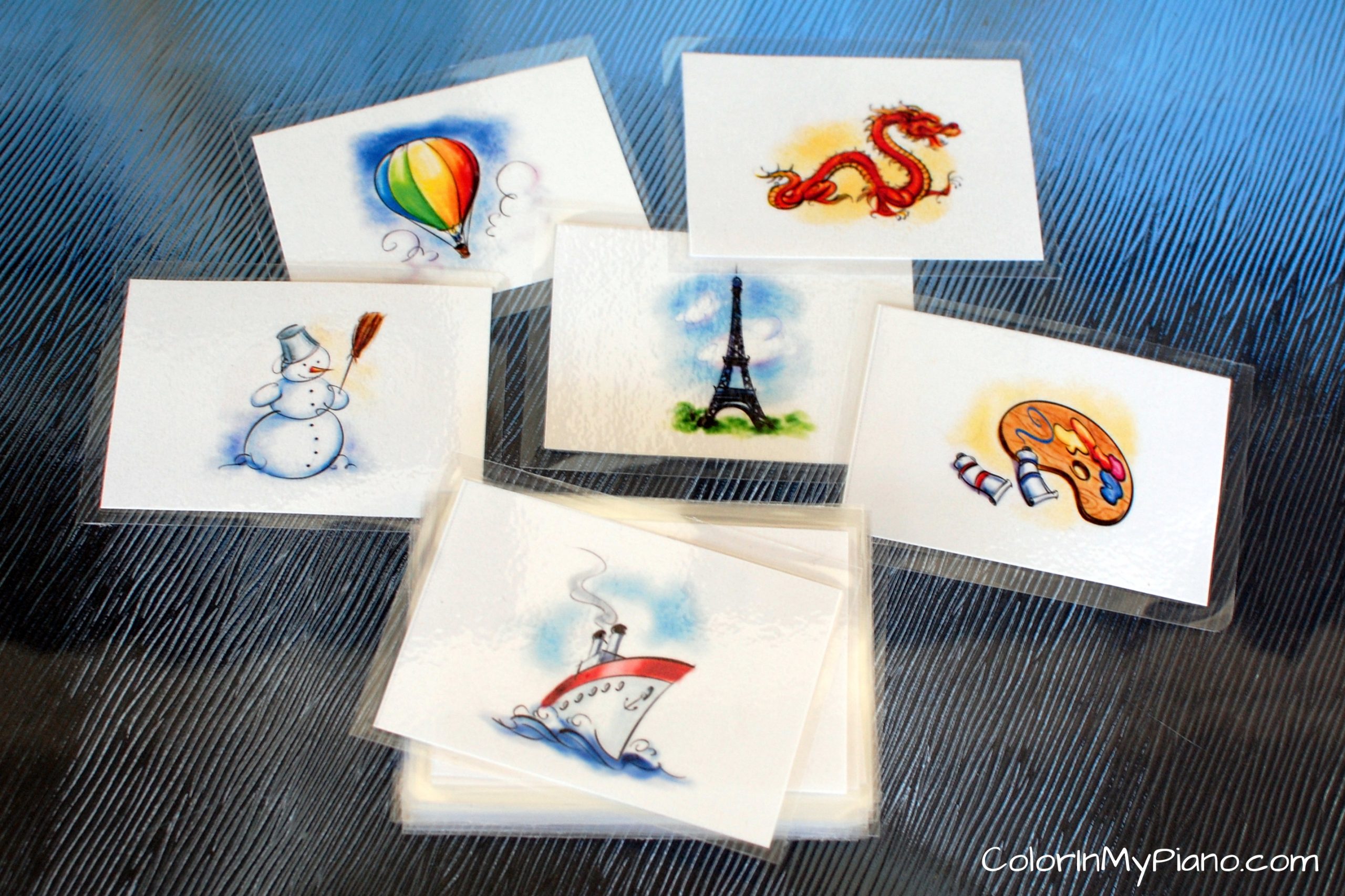 Students are sometimes at a loss for topics for improvising or composing, so I like to provide prompts — similar to the way Creative Writing classes often provide prompts. These flashcards are one way to do so. This 12-page document contains 96 flashcards of colorful clipart. I use these flashcards as prompts for improvisation sessions at the end of the lesson. They are also great for prompts for during groups lessons – for either short compositions or even duet improvisations. Sometimes I give the student just one flashcard to work with as their topic, and sometimes I give each student three, and allow them to choose one of them to use for their topic. There are plenty of flashcards in this set, so even when working in large groups (monthly studio classes or camps), it's possible to have plenty of variety. Read the original post here.

Jumbo Note-Naming Flashcards
» 459.7 KiB - 6,883 hits - 21 May 2013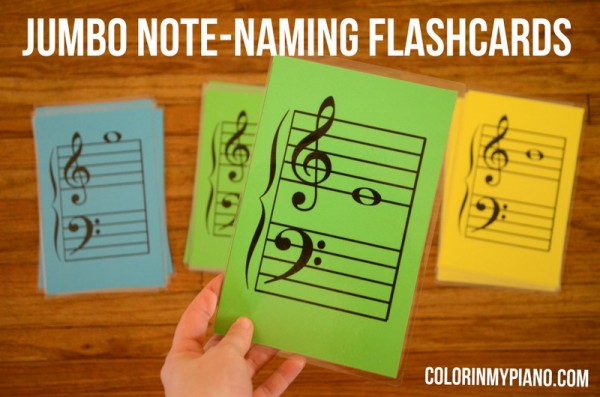 These jumbo-sized note-naming flashcards are perfect to use during group classes, when playing games with your students to improve their note naming skills. Young beginners or students with disabilities may also benefit from having jumbo-sized flashcards. I color-coded my flashcards according to the range of notes. I printed the Middle C position notes on green paper, the next few notes up to Treble C and down to Bass C on yellow paper, and the next notes up to High C and Low C (ledger lines) on blue paper.Click here to read the original post.

Large Keyboard printable
» 137.1 KiB - 3,754 hits - 13 September 2013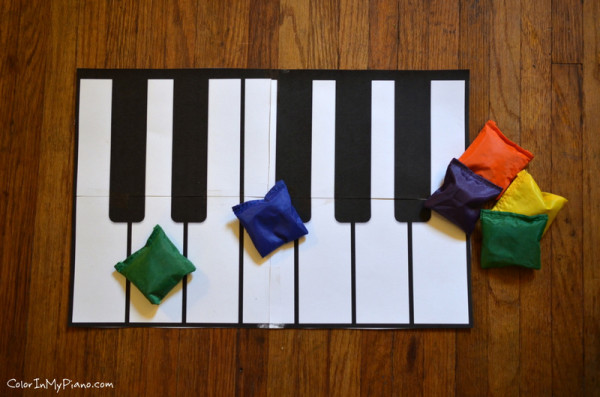 This large keyboard printable is perfect for beanbag games such as the Spell-A-Keyboard game. It is not as large as a floor keyboard, but could substitute for one in a pinch. Print the pdf on four pieces of cardstock paper. Cut on the dotted lines and then tape together as indicated. When assembled, the keyboard measures approximately 20 inches x 13 inches. To read more, click here.

MDP Technical Requirements Charts - Levels Prep-10
» 1.1 MiB - 3,608 hits - 20 September 2013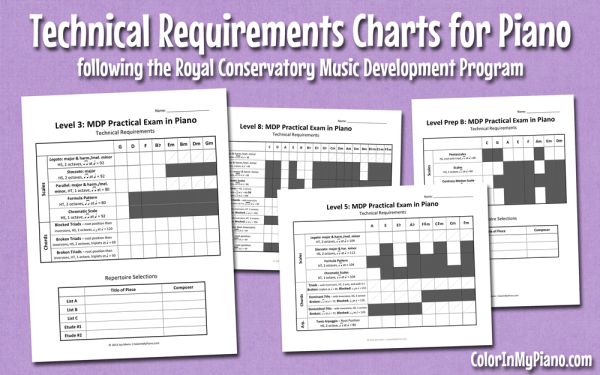 The Technical Requirements Charts within this pdf are designed to help students track their progress when preparing for the technical requirements of the Royal Conservatory Music Development Program (MDP) practical exams for piano. However, teachers may find the charts useful also for students who are not intending to take MDP exams. Students may fill in each box of the chart with a sticker or a checkmark as they meet each requirement. Please understand that these charts CANNOT function as a replacement for the MDP Piano Syllabus – they are merely practice guides. Read more here.

Melodies to Play By Ear and Harmonize
» 88.0 KiB - 7,287 hits - 24 January 2010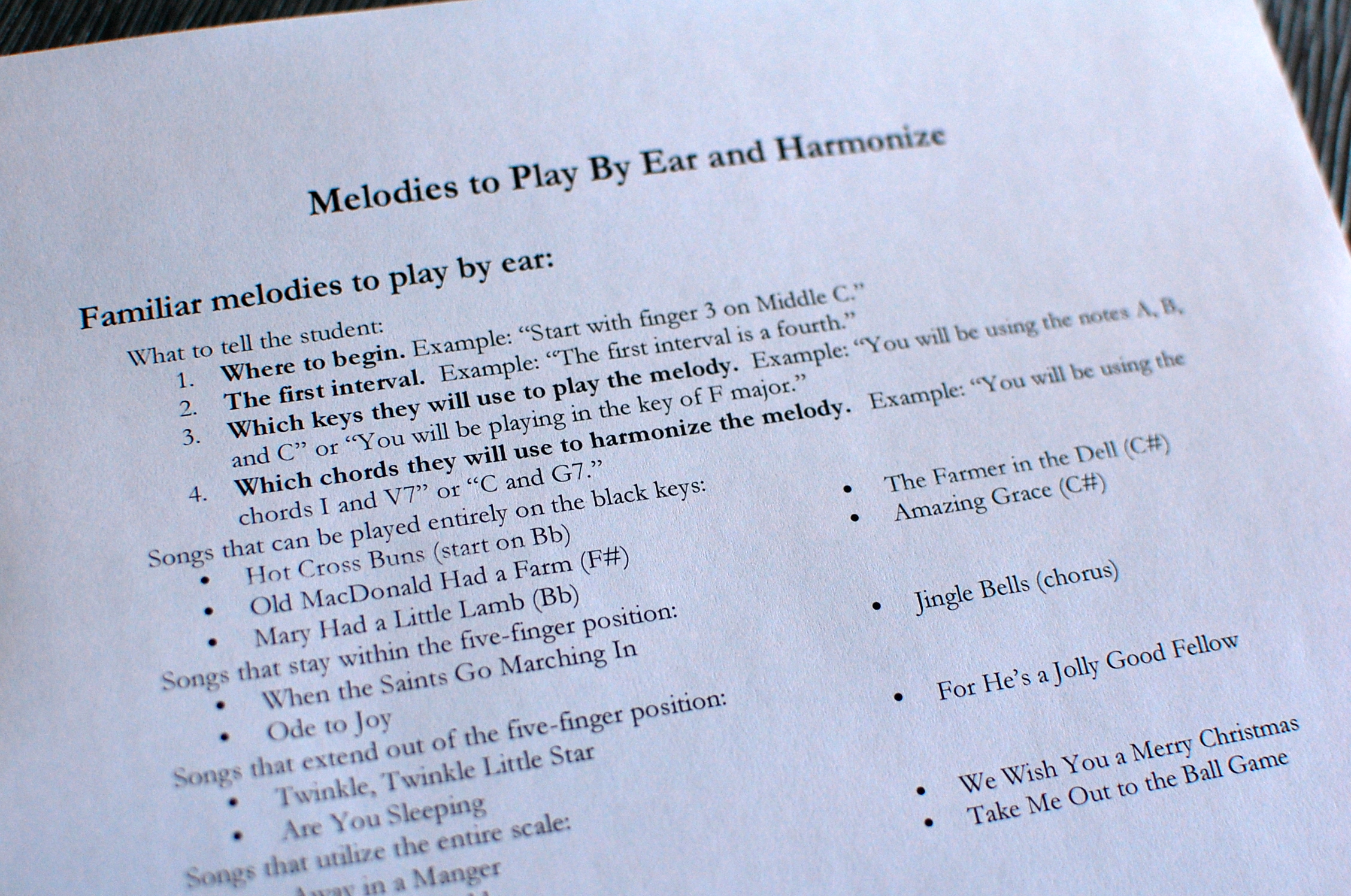 This pdf is a listing of melodies that can be assigned to students to play by ear and/or harmonize. Assigning tunes to play by ear is a great way to incorporate ear training into piano study! The melodies are listed in order of difficulty, beginning with easy melodies for beginners that can be played on the black keys of the piano.
Check out
this post
to read more.

Musical Alphabet Cards
» 275.9 KiB - 5,586 hits - 27 October 2011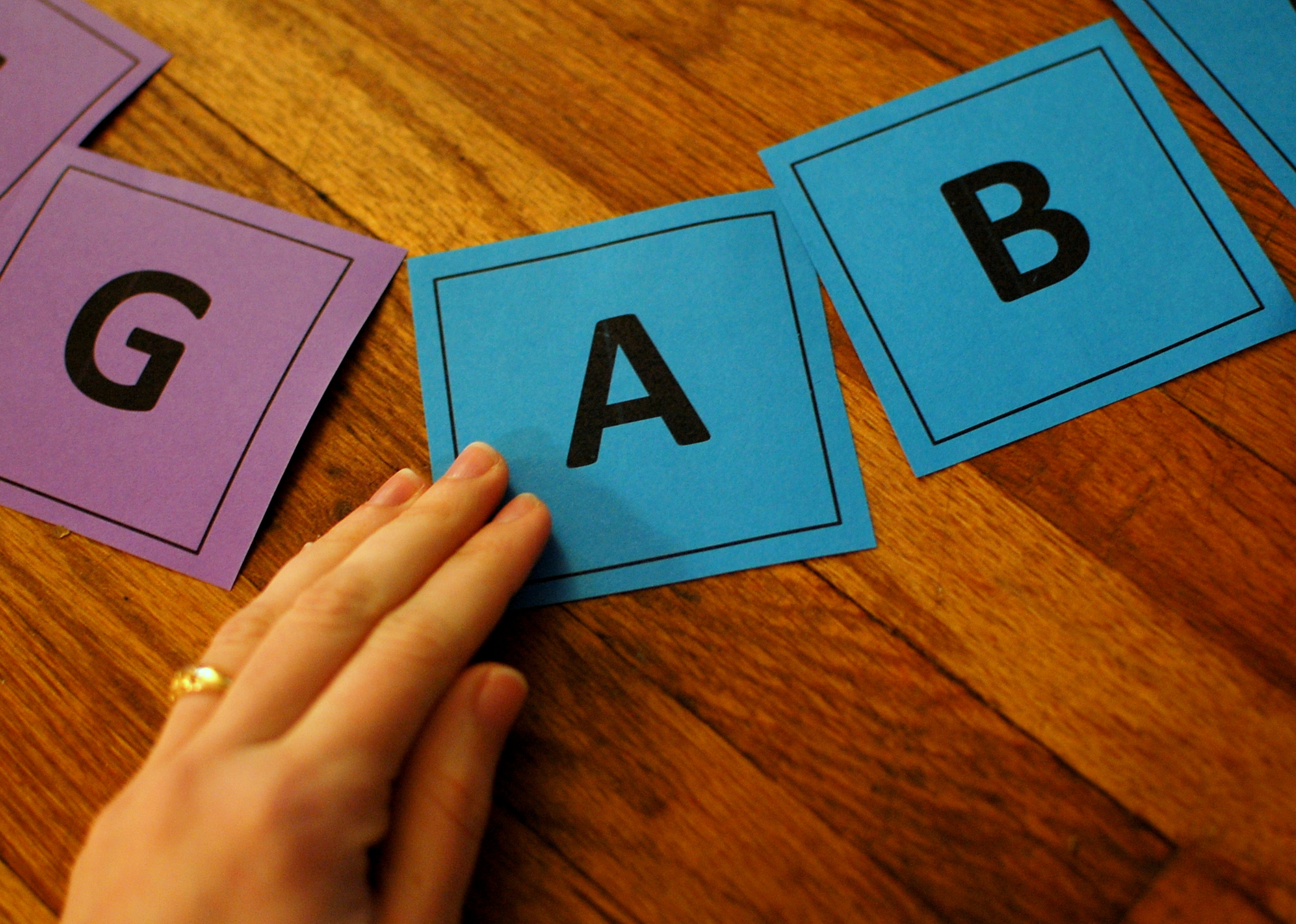 Musical Alphabet Cards can be used for a variety of activities. One example: students can make "musical alphabet snakes" in order to learn how the musical alphabet is different from the regular alphabet. Included in the pdf is a card which outlines other possible activities that use these cards. These activities work great in both group settings and private lessons.
Click here
to read the original blog post about this.

Musical AlphaGems
» 80.3 KiB - 5,302 hits - 7 November 2010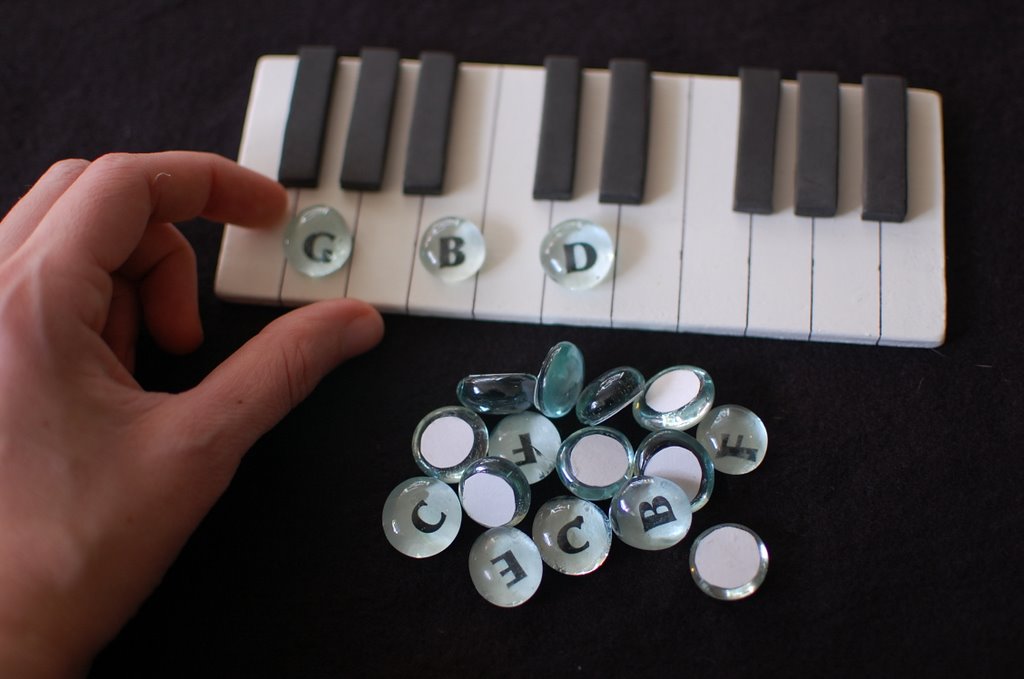 This pdf contains complete instructions and a materials list for creating your own Musical AlphaGems! Musical AlphaGems can be used for a variety of activities at the piano, on a printed or silent keyboard, or on staff paper. For example, try using Musical AlphaGems to identify the letter names of the piano keys, lines and spaces on the staff, or to build scales or chords on a piece of staff paper. The sky's the limit!
Click here
to read more.

Musical Christmas Chain Project
» 155.5 KiB - 83 hits - 5 December 2014

This PDF download is a simple sign that explains the details for doing a studio-wide project for learning holiday pieces and building a paper chain to decorate the studio. For each Christmas piece that students learn, they can write the title and their name on a paper strip to add to the chain. This collaborative, inclusive project will help motivate your students to learn as many Christmas pieces as they can during the month of December! Read more here

Musical Dice
» 4.6 MiB - 6,925 hits - 6 February 2011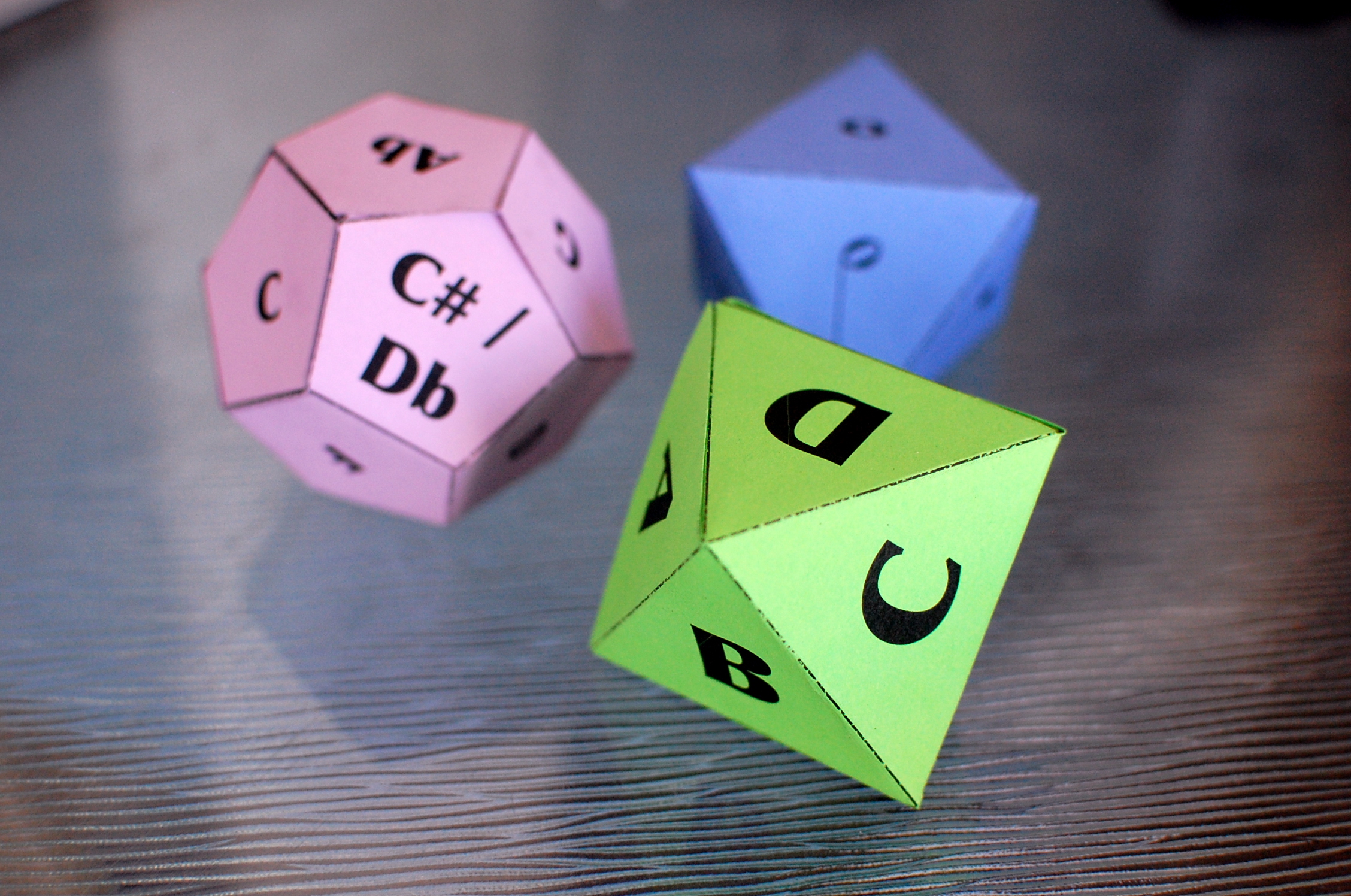 Print these dice pdfs onto cardstock paper (color optional – it might be nice to help tell apart the different dice), cut out, fold the edges, and assemble using tape. Putting together these dice may take a little time and patience. Don't try to tackle those 12-sided dice until after you've had some practice with the eight-sided ones! There are many, many fun ways these dice can be used during group games or private lessons with students.
Read more
here
.

Orchestra Stage Pieces
» 223.3 KiB - 3,949 hits - 20 September 2012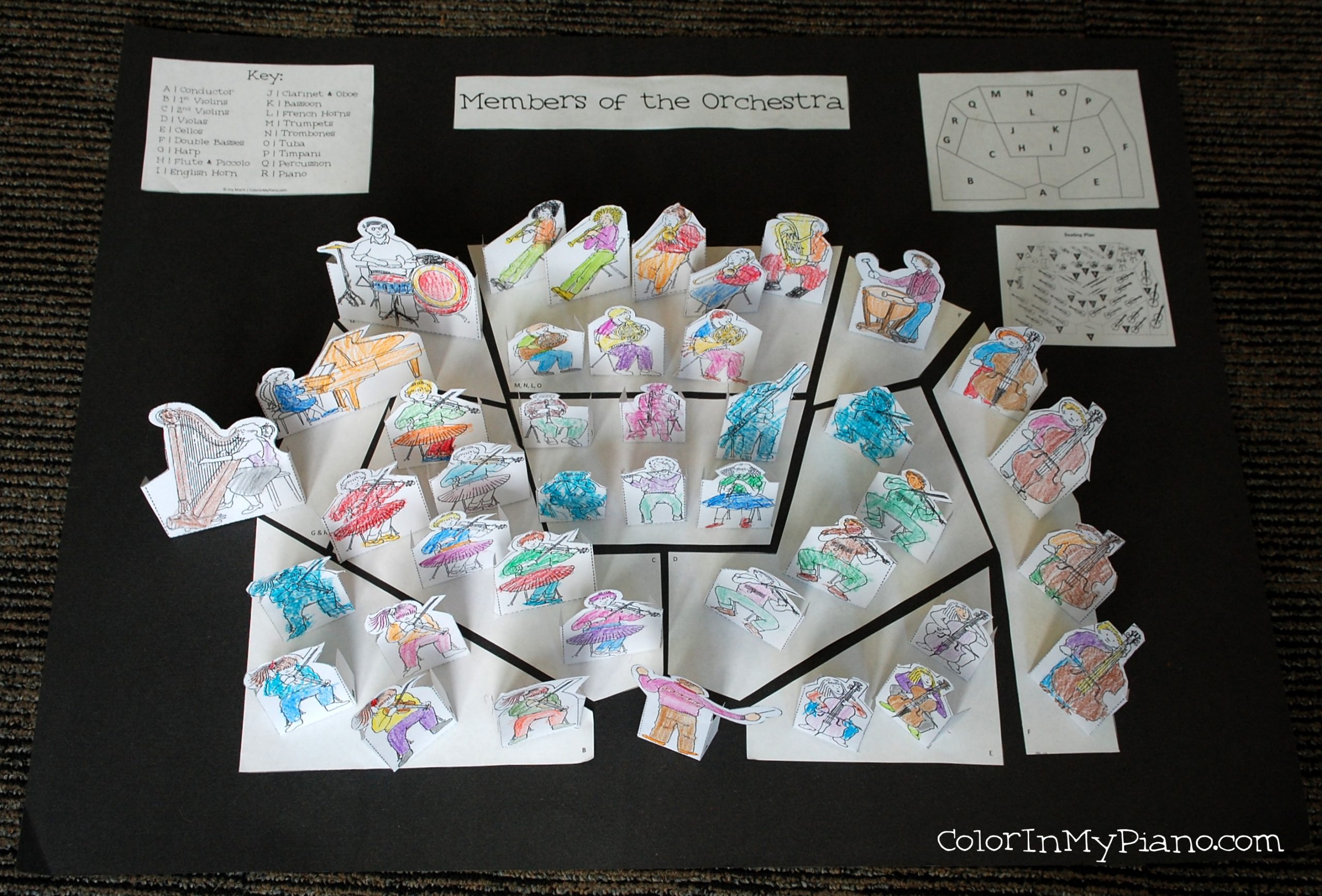 This pdf contains materials for creating a "stage" showing the sections of the orchestra. It is designed to work with the "Standup Symphony" figurines available on the St. Louis Symphony's website. Just cut out the stage pieces and glue them on a piece of posterboard. My students cut out and colored the figures, and each week I have them sort the figures to their appropriate section on the "stage."
Click here
to read more.

Piano Jokes
» 131.2 KiB - 8,047 hits - 21 March 2010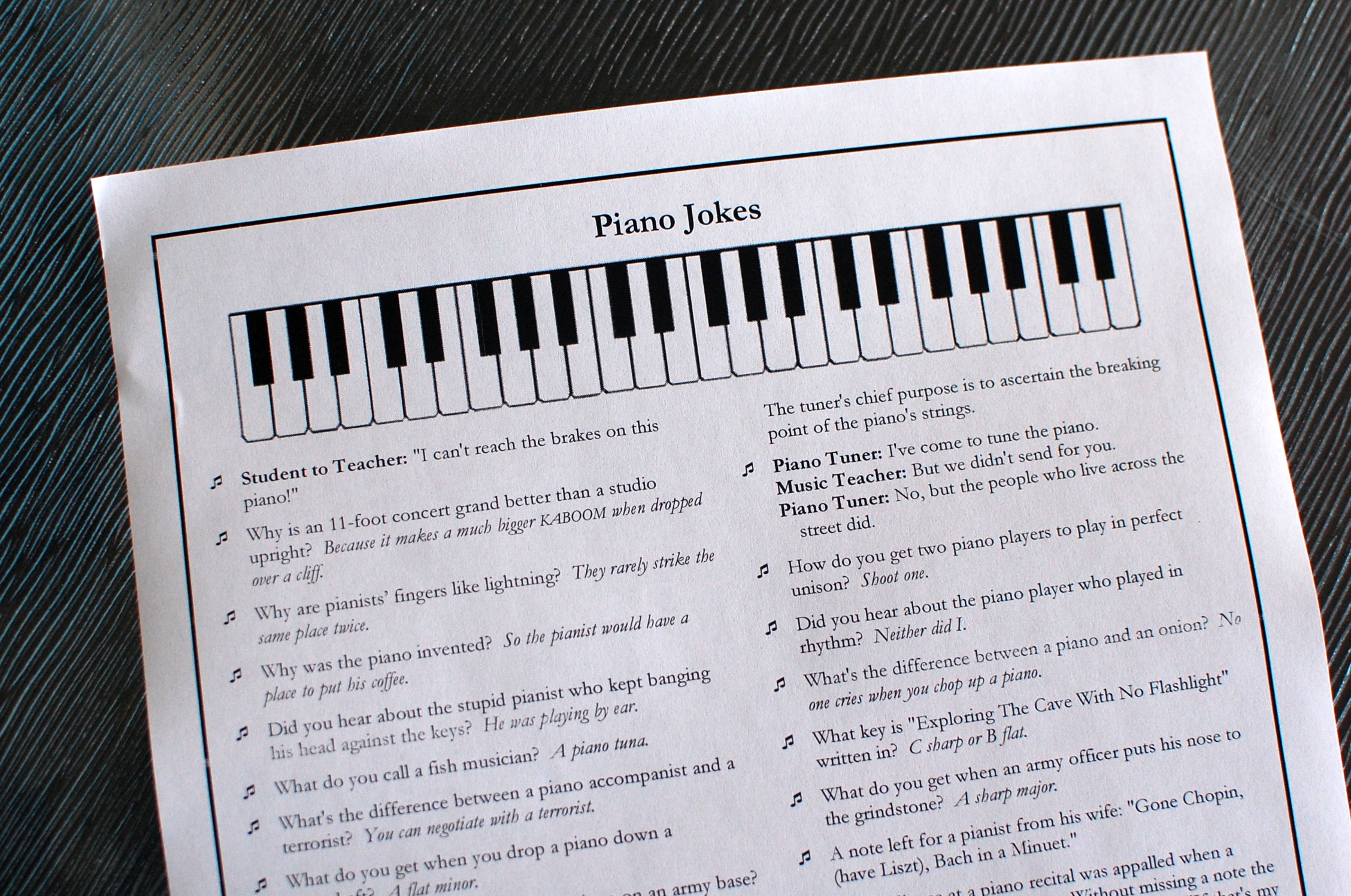 This 2-page pdf is a compilation of kid-friendly piano jokes that I found on the internet.
Print them out to give to your students, or put them in your waiting room area. Your students will be sure to get a kick out of these! Check out
this post
to read more.

Piano Key Flashcards
» 1.1 MiB - 4,897 hits - 2 July 2012

These cards are useful for a variety of purposes - for games or just for students to practice naming the names of the piano keys. Print page 3 on the backs of pages 1 and 2.
Click here
to see how these cards were used during my Musical Olympics Camp in Summer 2012.

Piano Keyboard Printable
» 163.7 KiB - 5,442 hits - 14 March 2013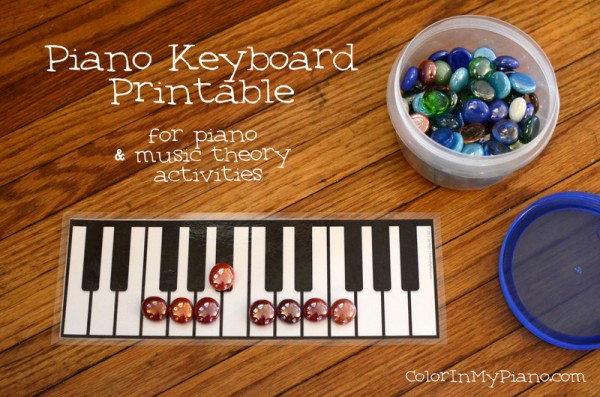 I printed and laminated a bunch of these Piano Keyboard Printables -- and I love using these them during group classes for various games/activities. I like to hold up a note-naming flashcard, and ask students to put a glass gem on the corresponding piano key. Or, I teach students how to build scales/chords on their keyboard and a printed staff.
Read this post to get some more game ideas that use this Piano Keyboard Printable.

Piano Recital Program Template #1
» 64.5 KiB - 8,067 hits - 6 May 2010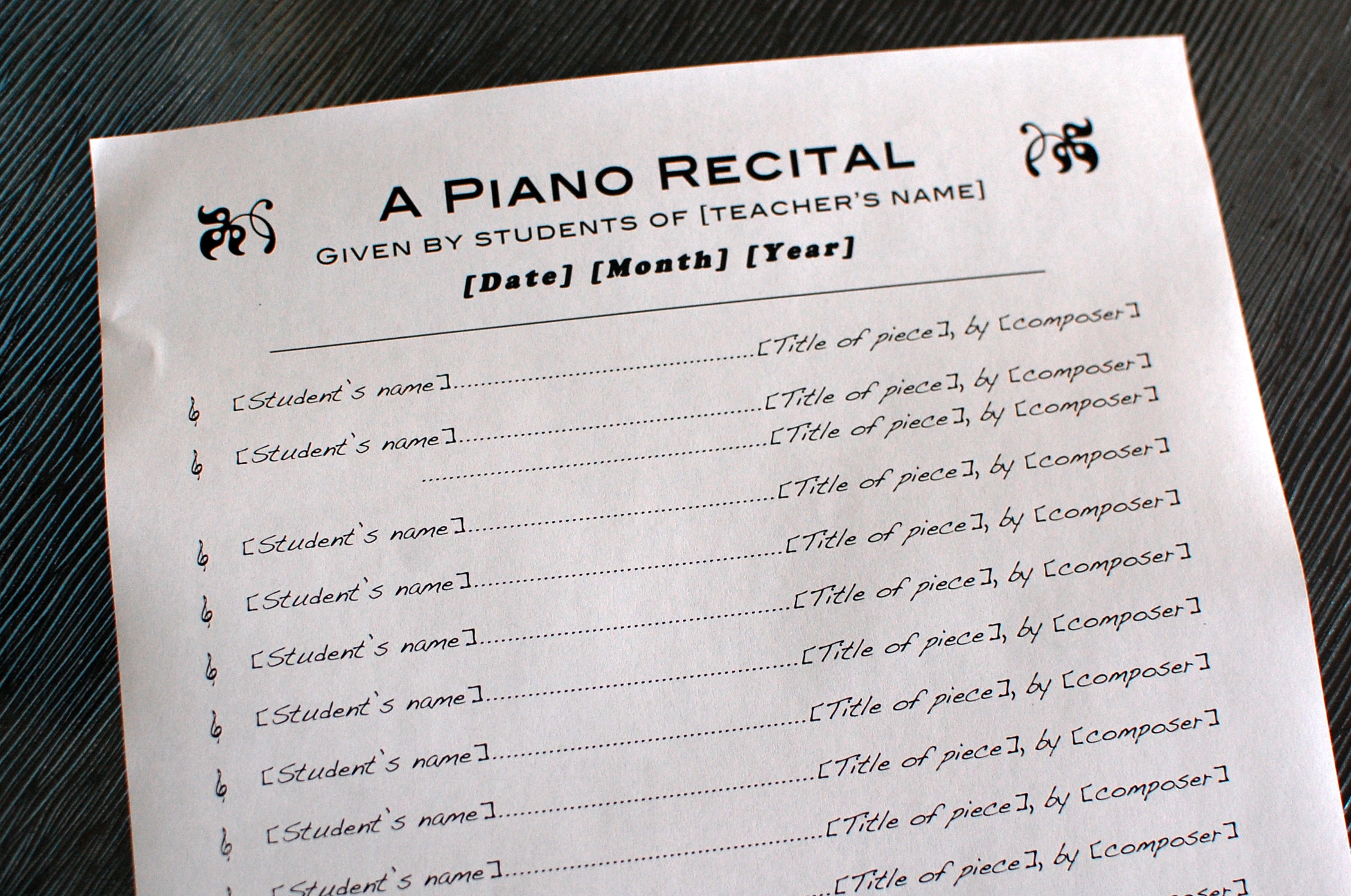 This Microsoft Word file (.doc) is a template for a piano studio recital program. Just click to download, fill in your students' names and pieces, and print!
Be sure to check out the other recital program template available for download too. Check out
this post
to read more.

Piano Recital Program Template #2
» 29.5 KiB - 7,006 hits - 17 May 2010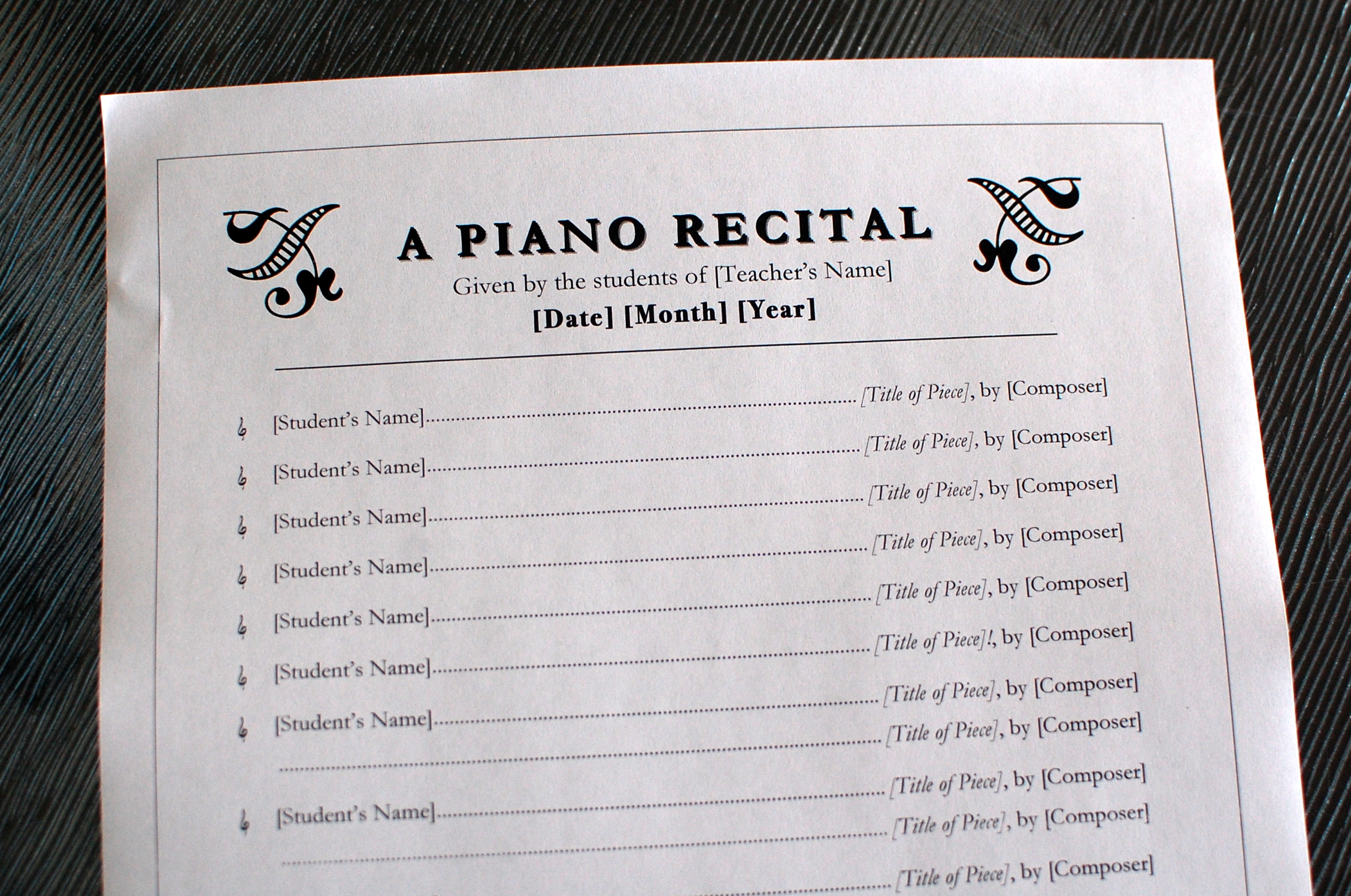 This Microsoft Word file (.doc) is a template for a piano studio recital program. Just click to download, fill in your students' names and pieces, and print!
Be sure to check out the other recital program template available for download too. Check out
this post
to read more.

Piano Recital Program Template #3
» 115.2 KiB - 5,592 hits - 7 May 2011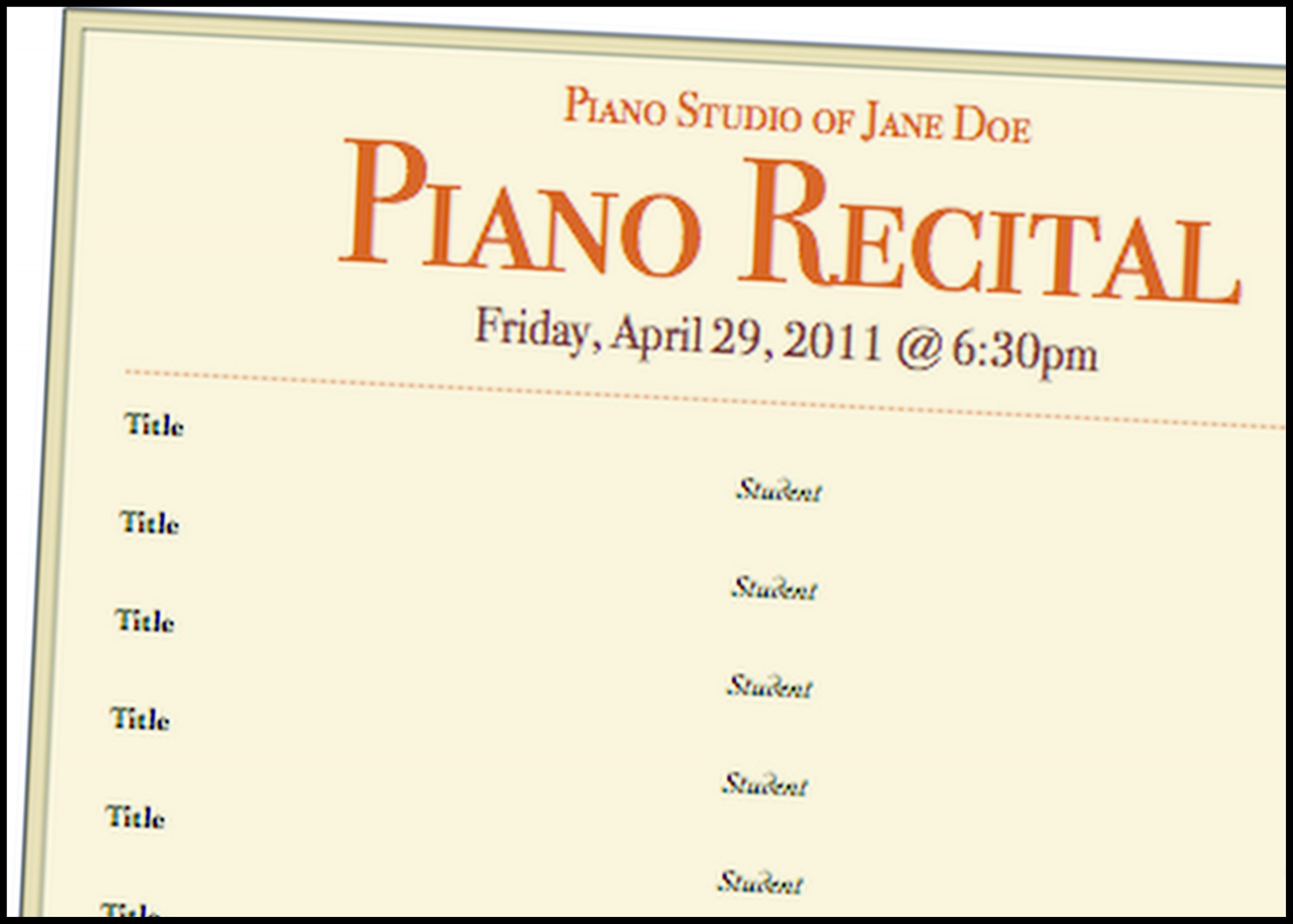 This Microsoft Word file (.docx) is another template for a piano studio recital program.
Unlike the previous two templates, this one is in color -- although it looks pretty good in black and white too if you plan to print it that way. Just click to download, fill in your students' names and pieces, and print!
Click here
to read more.

Piano Recital Program Template #4
» 161.2 KiB - 1,726 hits - 17 March 2014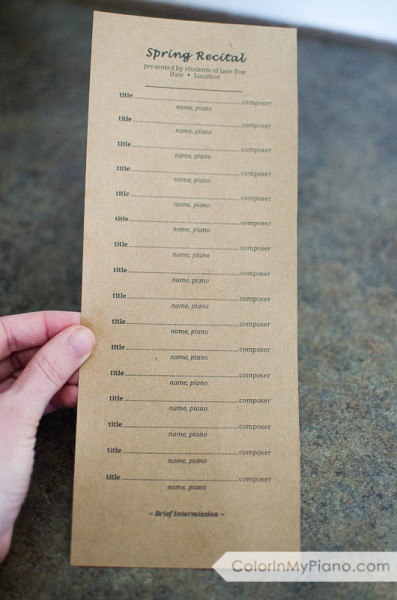 This free Microsoft Word template provides a quick and easy way for you to create your own recital program. Just download the "docx" file and add your students' information. Two programs are printed side-by-side on each page. You must cut the programs apart vertically.

The front has room for about 15 students and, if you print two-sided, the back can hold another 15 students. As you can see in the photo, I printed my programs onto cardstock "Kraft" paper, but you can use any kind of paper you desire.

Click here to read more about this template.

Piano Valentine Printable
» 589.0 KiB - 4,717 hits - 30 January 2012

This 2-paged pdf contains cut-outs for creating piano valentines to give to your students -- or to let your students make as a craft project! Print the piano page on red or pink cardstock, and the keyboard page on white cardstock. Then cut out the pieces and assemble as directed. Don't forget to buy some musical embellishments to decorate the top! Full directions for assembling this craft are included in the pdf. Once assembled, the piano-shaped valentine can be glued onto a box of heart-shaped candies, or given as is.
Click here to read the original blog post about this.
Click here
to view a variation on this valentine craft.

Piano Valentine Printable 2
» 146.6 KiB - 3,628 hits - 8 February 2013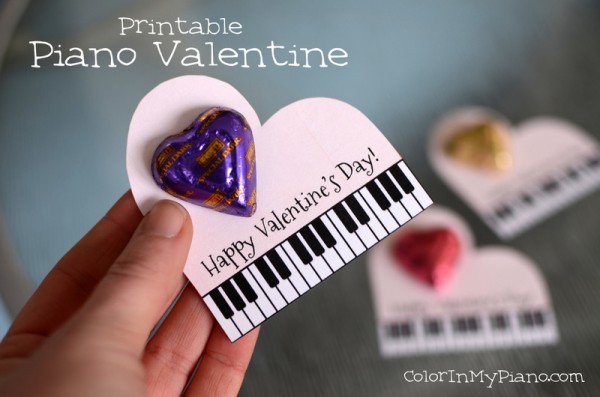 This piano valentine design is simpler and easier to assemble than the previous year's design. Just cut out the heart shapes! If desired, you can attach a piece of candy to each valentine using a circle of tape. My students loved receiving these during the week of Valentine's Day!
Click here
to read the original blog post about this.

Reading Music | Reference Sheet
» 44.3 KiB - 10,315 hits - 10 April 2010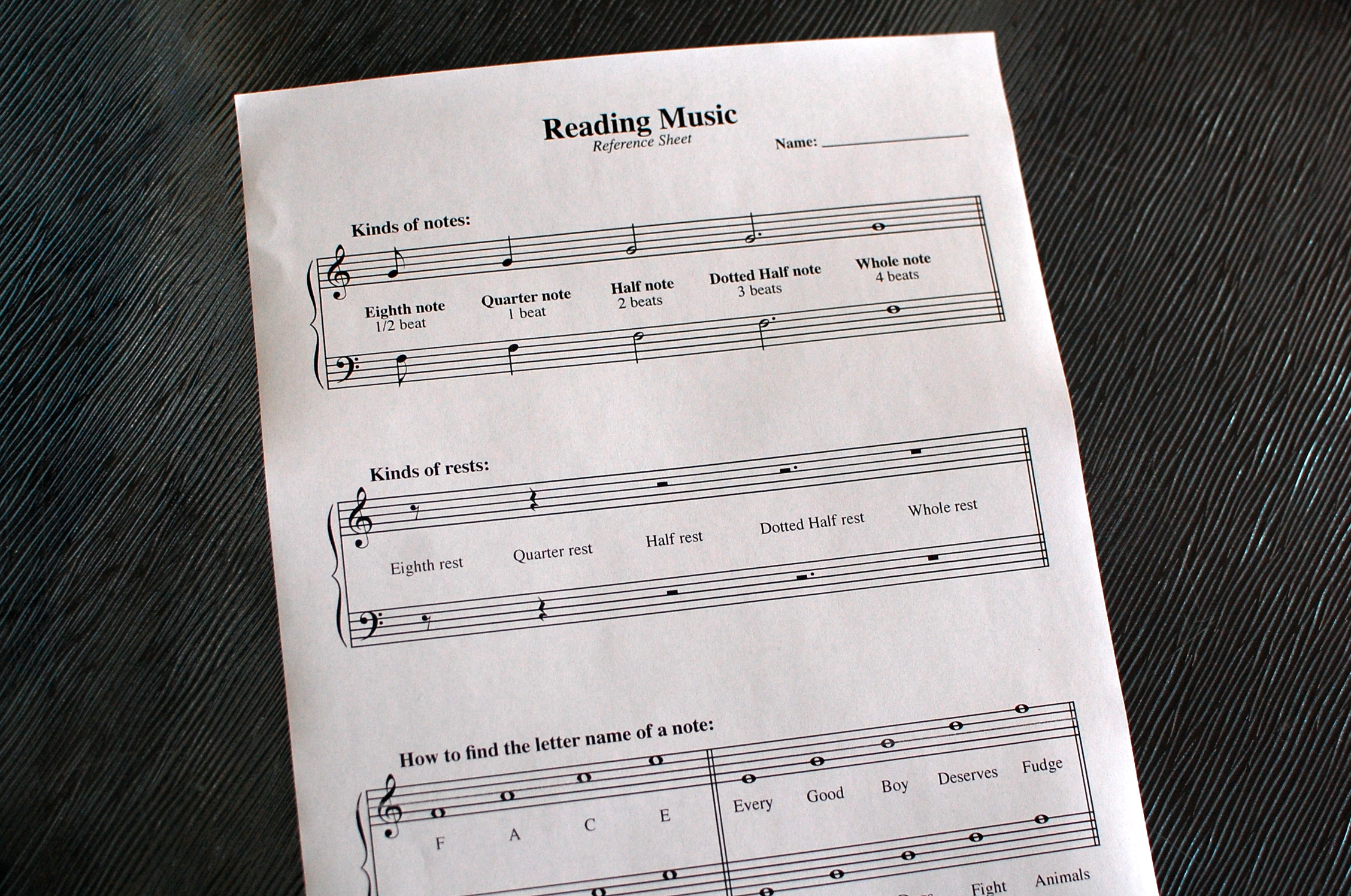 This reference sheet is handy for giving out to students who are just learning to read musical notation on the staff. It contains note & rests and their values, and some fun word mnemonics for figuring out the letter names of notes on the staff: FACE, Every Good Boy Deserves Fudge, All Cows Eat Grass, and Great Big Dogs Fight Animals.
Check out
this post
to read more.

Recital Countdown
» 1.3 MiB - 1,396 hits - 30 April 2013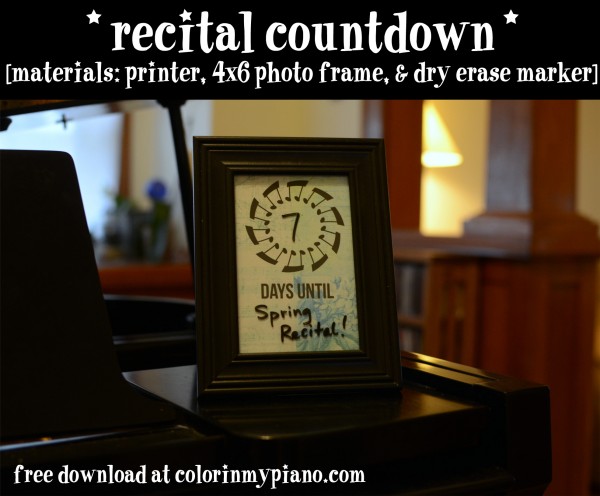 This jpg file is a background insert for a 4x6 frame, for creating your own Recital Countdown to remind your students how many days until the recital or other upcoming event! Materials: 4x6 photo frame, printed jpg background, and dry erase marker. Directions: Design a background (or print the one I've created), insert it into a 4x6 photo frame, write the event & countdown number on the glass, and place your new Recital Countdown on/near your piano!
Read more about this project here.

Scale and Arpeggio Fingerings (2 Octaves) Reference Sheet
» 86.0 KiB - 45,810 hits - 5 December 2010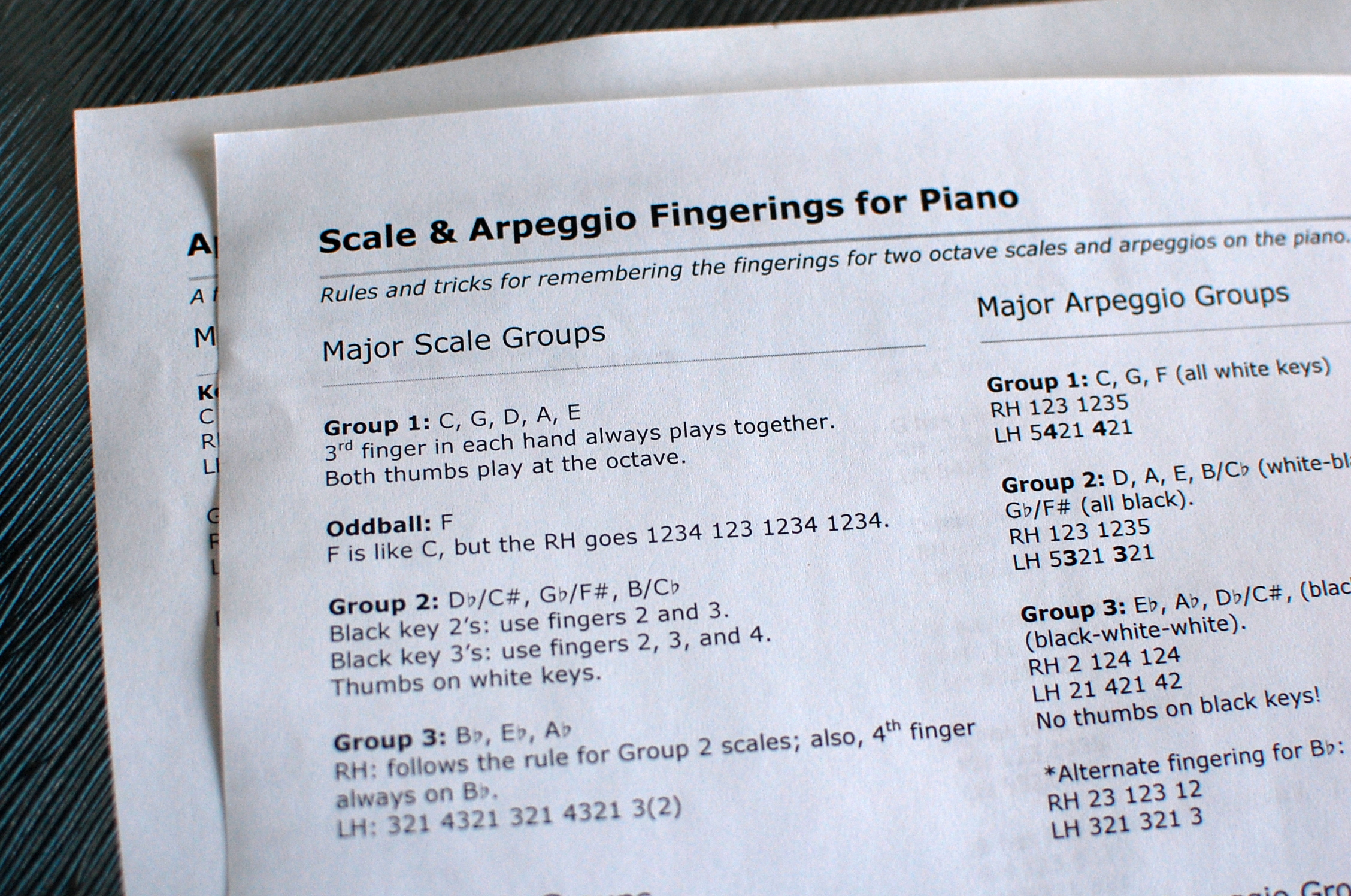 This handy reference sheet is designed to help students keep 2-octave scale and arpeggio fingerings straight in their heads once they've gotten them under their fingers! If you teach a college-level section of Class Piano, this just might be gold to your students. Page 1 lists the scales/arpeggio fingerings in similar groupings and lists rules and tricks for remembering them. Pages 2 and 3 have a complete listing of each major and minor scale's and arpeggio's fingering.
Click here
to view the original blog post about this.

Signs for Beginner Piano
» 1.4 MiB - 9,586 hits - 10 September 2012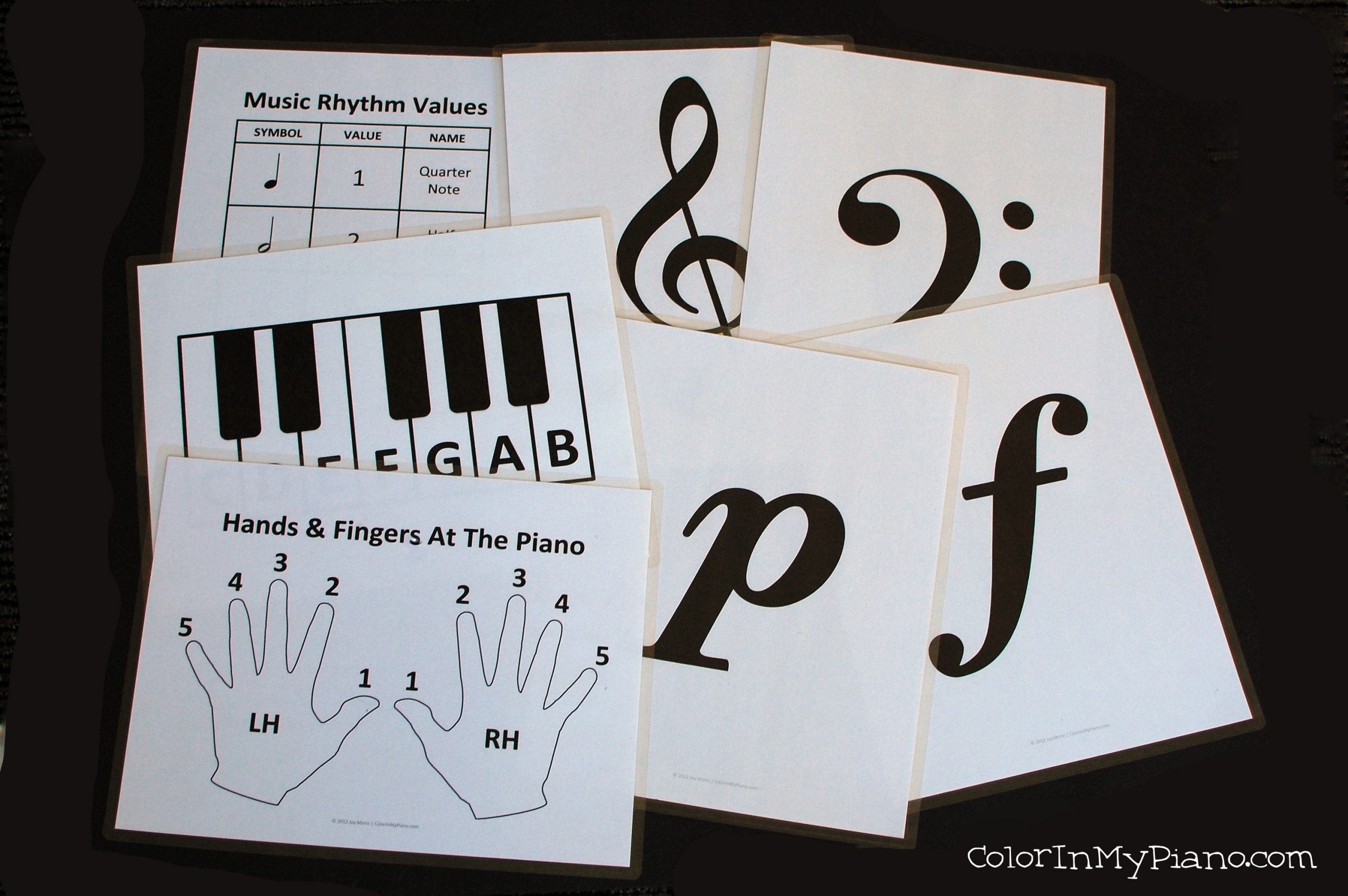 This 11-page pdf contains a collection of 8.5 x 11 inch signs to print for use with beginner students in class or private lesson settings. They can be held up while teaching a new concept, hung on the wall, or used for various games with your students. The signs illustrate the names of the white keys on the piano, piano fingering, a chart of rhythm values, treble/bass clef, line/space notes, and the dynamics. Read more here.

Staff Paper - A-J
» 180.5 KiB - 6,463 hits - 22 July 2012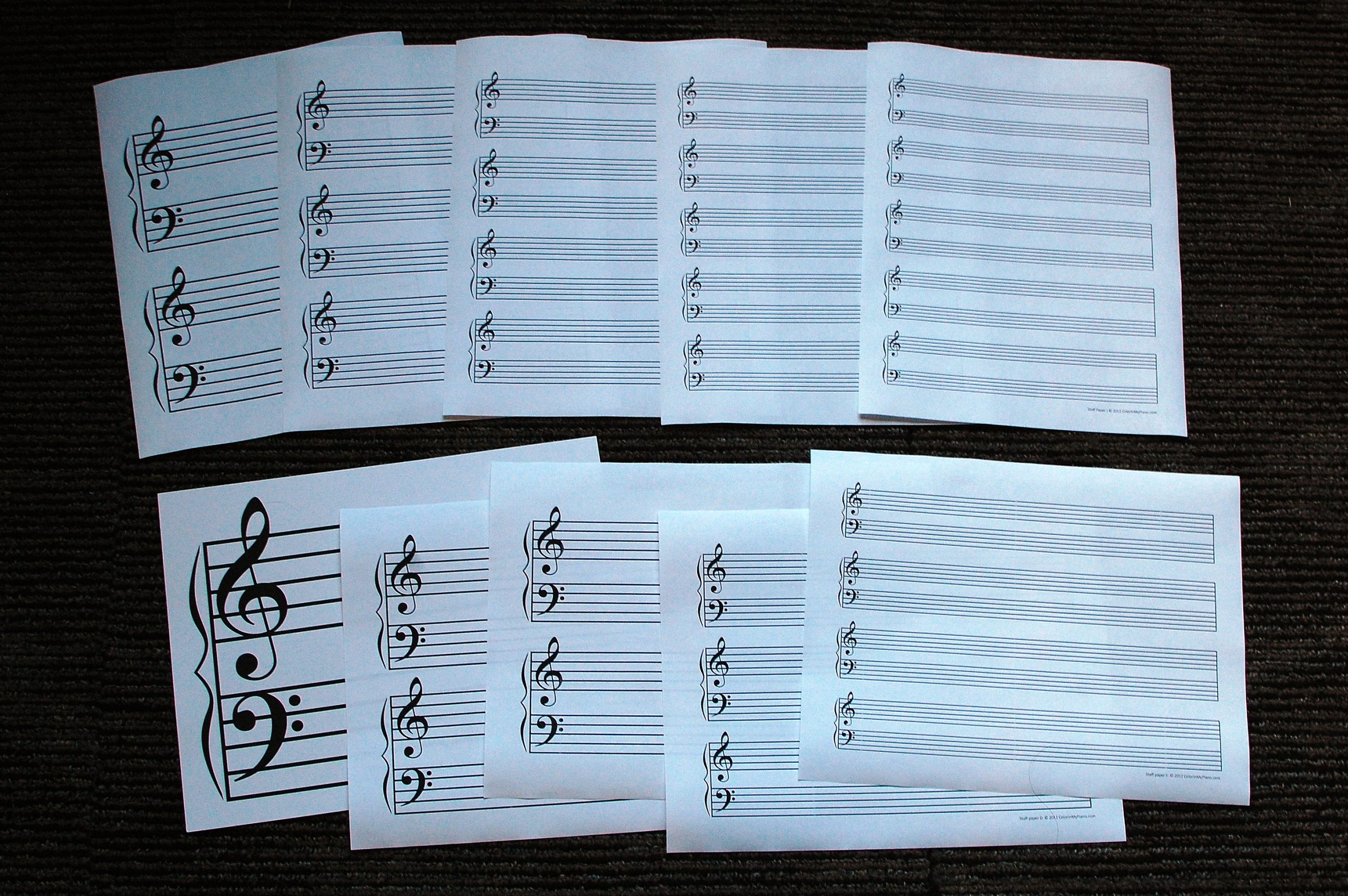 This pdf contains 10 different sizes of staff paper. The other sizes are suitable for students of various ages, for any type of composition or theory assignment. I laminated a few copies of the largest size of staff paper (A), and enjoy using it for theory games with group classes. We use colorful glass gems as the notes for the staff, or use a dry erase marker.

Staff Paper -- Large Staff for Simple Compositions
» 28.4 KiB - 4,264 hits - 4 November 2011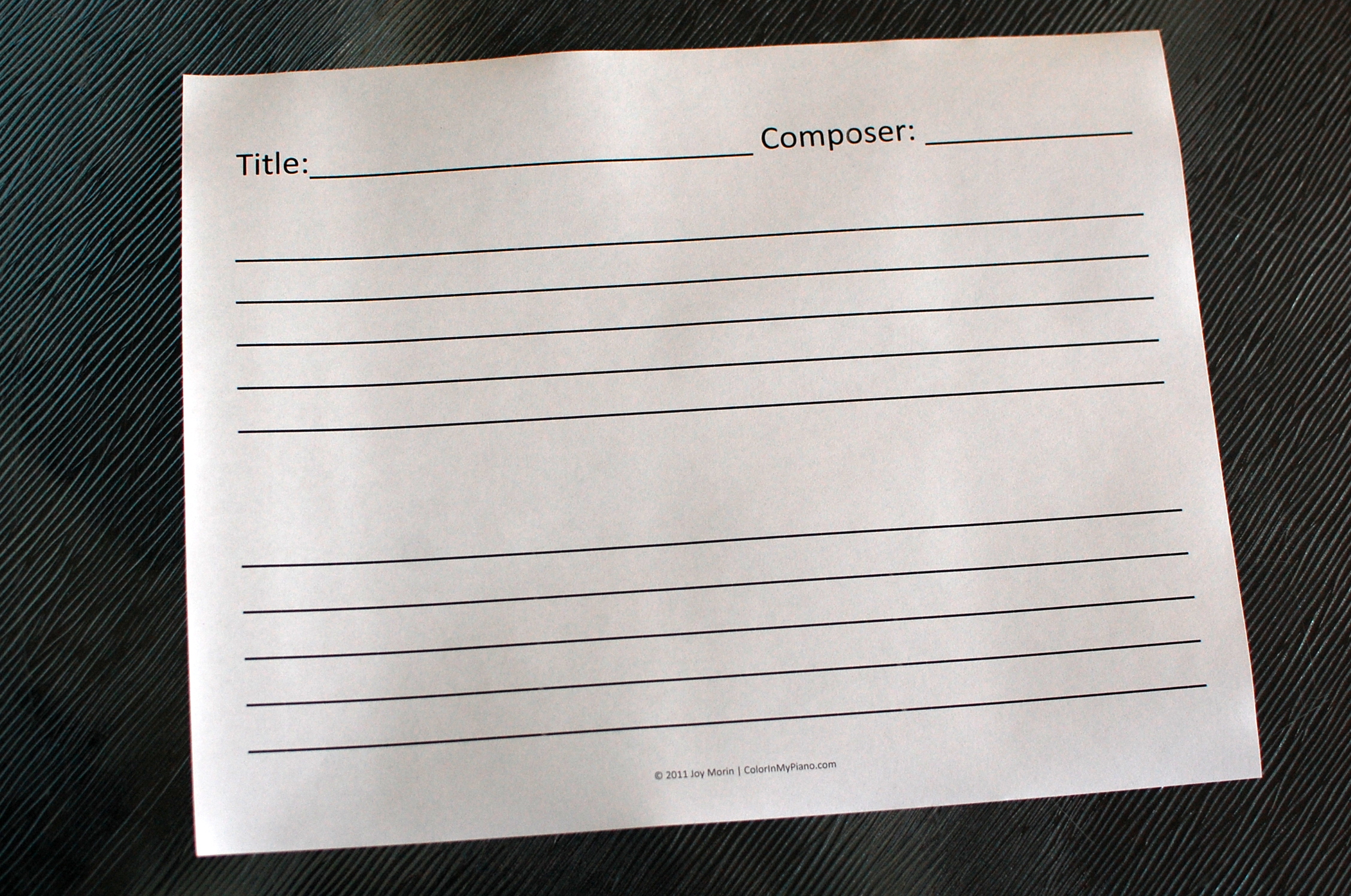 This large staff paper is appropriate for use with young students. I use this paper when teaching about reading staff notation for the first time. With students, together we notate a simple composition they create on-the-spot at the piano. After getting the notes down, we use colorful markers to label the notes (A, B, C, etc) and write in finger numbers, so they can continue playing their compositions at home. Students love the idea of being composers!
Click here
to view the original blog post about this printable.

Staff Paper for Composing with Stickers
» 93.0 KiB - 5,775 hits - 27 February 2012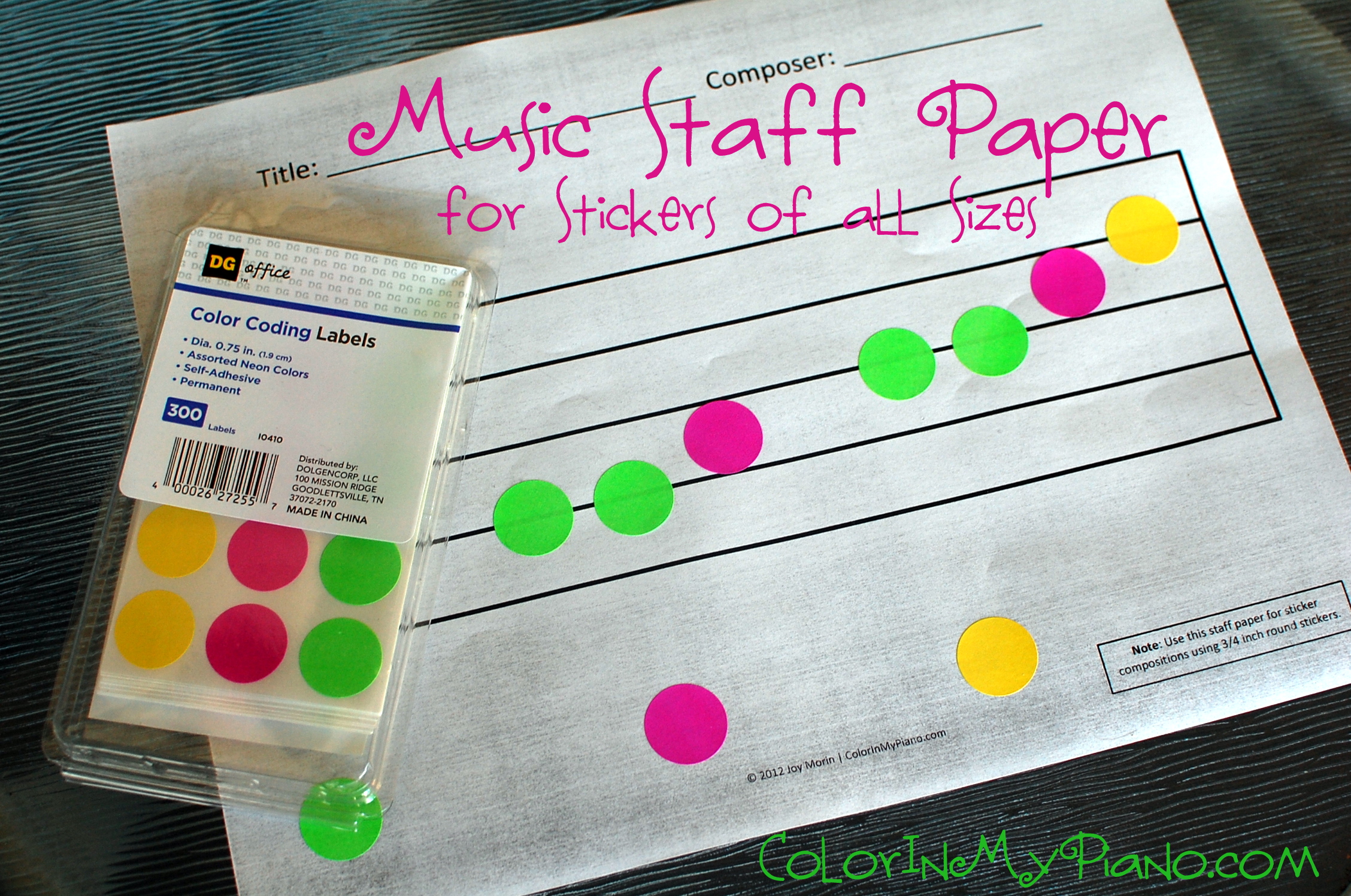 I love having my piano students compose their own music, even when they are young beginners. I try to make it easy and fun for them. The pdf contains a variety of various sizes of staff paper for use with any stickers you might find. On the bottom of each page in the pdf, it indicates what size stickers you'll need with each sheet of staff paper.
Click here
to view the original blog post about this printable.

Whiteboard Background - for 8.5x11'' Plexiglass Frame
» 20.7 KiB - 3,154 hits - 26 February 2013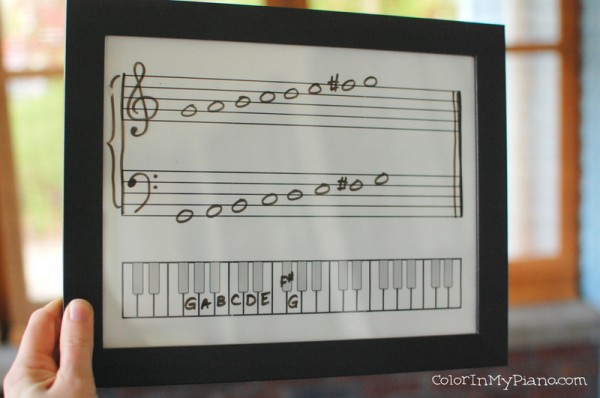 Music whiteboards cost a pretty penny in music catalogues, so I decided to make my own. I bought this 8.5x11'' frame from IKEA for under $3. I chose one that had plexiglass instead of glass, so that I won't have to worry about it breaking if it gets dropped. The frame is a sturdy plastic. On my computer, I designed the staff and keyboard pictures on a horizontal piece of paper, printed it, and inserted it into the frame. Easy! Click here to read more about how I use this frame when teaching.